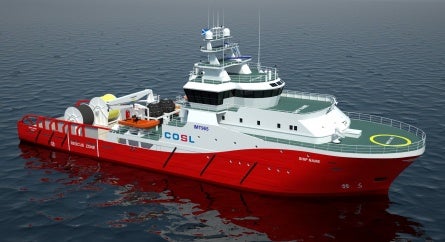 OSD-IMT, a British business unit of Netherland-based Offshore Ship Designers, has won a contract to design two IMT965 seismic support vessels for China Oilfield Services (COSL) in Beijing.
The vessels, with a bollard pull in excess of 50 tonnes, will be used to provide support for larger seismic vessels that conduct seismic surveys for several months at a time.
Each vessel has an overall length of 64.9m with a length of 58.2m between perpendiculars.
In addition to seismic support, the vessels can also be used for refuelling, fresh water replenishment, supply of spares and general stores, emergency towing, and escort support and guard duties.
The working deck of the IMT965 vessel features a deck-mounted fuel supply module that can hold 980m³ of cargo oil for refuelling the mother ship.
The module can also supply up to 500m³ of fresh water.
The vessels also features 80m³ of cold stores and dry provisions, which can be accessed directly from the working deck.
The 1,800dwt vessels feature a DP1 notation, which allows it to shadow the mother ship at a pre-set distance for long periods.
The IMT965 features a hybrid propulsion system, where one medium-speed diesel engine drives two CP propellers to achieve speeds of up to 13 knots
---
Image: The IMT965 vessel can accommodate 48 persons, including cabins for mother ship relief personnel. Credit: Offshore Ship Designers.