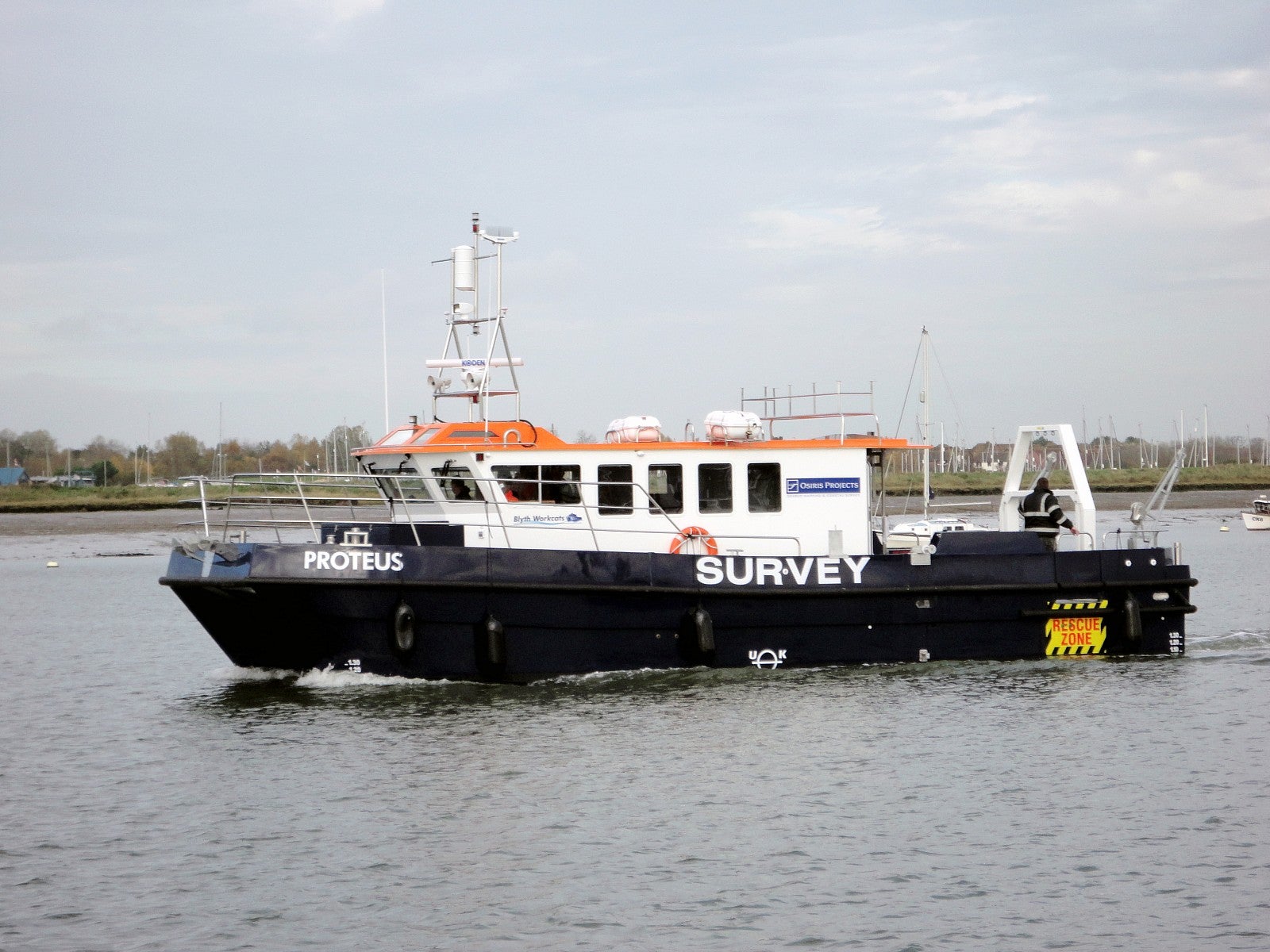 UK-based Osiris Projects has unveiled a new coastal survey vessel, MV Proteus, the fourth vessel in their fleet.
Proteus is a 14m-long purpose built GRP survey catamaran that is designed to provide a highly stable, comfortable and fast working platform for coastal survey operations.
The vessel's hull is designed to ensure maximum manoeuvrability at both low and high speeds and the boat can reach a maximum speed of 24 knots.
The vessel benefits from a shallow draft of just 1m, making it suitable for inshore operations, while the hull design incorporates a low drag profile providing fuel efficiency.
In order to perform coastal survey operations, the vessel is equipped with positioning systems such as Inertial Navigation System (INS) and an acoustic Ultra Short Baseline (USBL) positioning system for towfish tracking.
Additionally, Proteus is equipped with a moon pool with a hydraulic retractable hydrodynamic gondola, hydraulic A-Frame and customer retractable transducer mounts.
The vessel is also permanently mobilised with an AGO-CSW7 electric sonar winch, which, when linked with the hydraulic A-Frame, allows for safe launch and recovery of geophysical equipment, including side scan sonar, sub bottom profilers and marine magnetometers.
The ship also carries an additional hydraulic lifting winch, which is used to launch and recover oceanographic and benthic survey equipment such as a small inspection class ROV/drop down camera, various grab sampling equipment and benthic trawls.
In addition to MV Proteus, Osiris Projects also launched the 12m-long MV Freja in 2002, the 15.3m-long catamaran MV Lia in 2004, and the MV Bibby Tethra in 2011.
The company is further planning to build Bibby Tethra's sister ship, which is scheduled for launch in January 2015.
---
Image: The new survey vessel MV Proteus launched by Osiris Projects. Credit: Osiris Hydrographic & Geophysical Projects Limited.