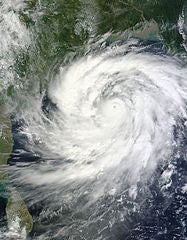 A Panama-registered bulk cargo vessel, MV Bingo, belived to be carrying 20 crew members is feared to have sunk 19 nautical miles south of Sagar Island due to Cyclone Phailin.
According to a report by Kolkata Port Trust (KoPT), the crew abandoned the ship, which was carrying 3,083 metric tonnes of iron ore, and used a life raft to move towards the western bank of Sagar Island.
Sagar Island, which has an anchorage, is located at the southernmost tip of the state of West Bengal near the port of Haldia in India.
The bulk cargo carrier left the Haldia Dock Complex for China on 11 October 2013 and crossed Sagar Island, attempting to reach open waters, when Cyclone Phailin hit the Odisha and Andhra Pradesh coastline.
KoPT chairman RPS Kahlon said a Dornier aircraft and hovercraft belonging to the Coast Guard were searching for the ship which, sailed with 19 Chinese and one Indonesian crew member on board.
Officials of the KoPT and the Indian Coast Guard (ICG) are trying to find out whether the ship was sunk, washed away or picked up by a merchant vessel.
ICG DIG MA Warsi said the ship, of 2006-make, had 232 metric tonnes of furnace oil and 30t of diesel in her tanks.
"At around 6.30pm on Saturday, we received a distress call and sent the ICGS Vajra, which was on patrol in the area, to investigate," Warsi added.
"The MV Bingo was located about 19 nautical miles south of Sagar. It was listing 45 degrees to the starboard (to its right side). The crew had abandoned ship. Due to Cyclone Phailin, the swell was extremely heavy – between 7m-8m – and the ICGS Vajra could not pull the crew members on board."
The ICG, which continued search and rescue operations on 12 October 2013, presumed the vessel to have sunk at a depth of 8m-11m.
---
Image: Cyclone Phailin over the Bay of Bengal. Credit: NASA, MODIS.