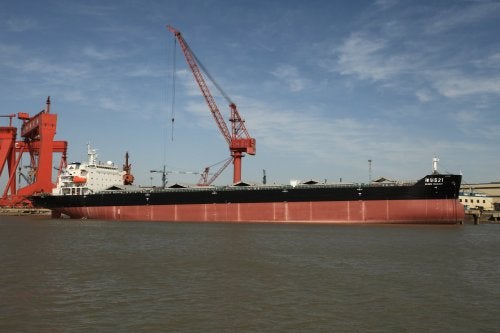 China Shipping Group has awarded a contract to UK-based PC Maritime to install its Navmaster Electronic Chart Display and Information Systems (ECDIS) on 50 newbuild bulk carriers.
The contract was negotiated by Bogerd Martin NV's subsidiary company, Bogerd Martin China, based in Shanghai.
Bogerd Martin China technical sales manager John Yang said, "We have a good relationship with China Shipping Group and Navmaster ECDIS was selected because it is easy to operate and comes with a simple training method."
Under the deal, PC Maritime will equip its Navmaster ECDIS on China Shipping's vessels which are between 46,000dwt and 76,000dwt.
As of now, ten vessels have been equipped with single Navmaster ECDIS, while work on the remaining 40 bulk carriers is expected to be carried out over the next one year.
Second generation Navmaster ECDIS incorporates input of several navigators into its design and can be fitted into existing bridge layouts.
The ECDIS is available with two hardware options including a separate processor with two display sizes and a combined panel PC unit.
Navmaster ECDIS offers Windows interface with main commands on screen, built in remote diagnostic facility, up-to-date chart management, voyage data record and replay features.
According to PC Maritime, the Chinese firm intends to equip a second ECDIS on its fleet in due course as it aims to move away from the use of paper navigational charts completely.
PC Maritime ECDIS training system has also been installed at maritime colleges in order to offer both generic and type-specific training.
John Lilley & Gillie, a partner of PC Maritime, is responsible for manufacturing the Navmaster ECDIS hardware in Birmingham.
---
Image: Navmaster ECDIS is equipped on China Shipping's newbuild Shen Hua 521 as part of a 50-vessel contract. Photo: PC Maritime.