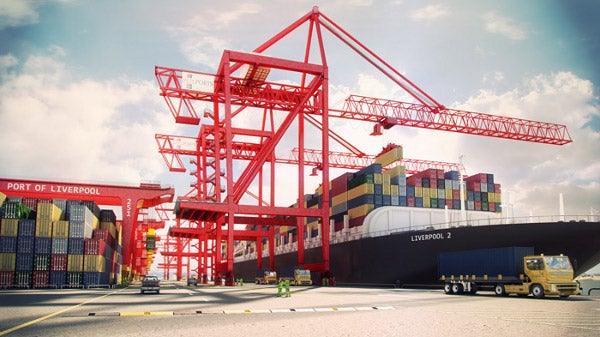 Peel Ports has started the procurement phase for the construction of a new £300m deep-water container terminal at the Port of Liverpool.
Scheduled to open in 2015, the new terminal Liverpool 2, will be located on the River Mersey and will be able to accommodate two container vessels of up to 13,500 teu at a time.
The new terminal will allow shipping lines, importers and global shippers to access the UK's major centres through the route, while reducing the carbon footprint of the total journey.
Peel Ports Mersey managing director Gary Hodgson said that the new container terminal brings customers to the North West from all points of the compass from South America to the Far East.
Construction work will include a new 854m quay wall, the in-filling of the newly created land-mass, dredging of a new 16.5m deep berthing pocket next to the quay wall.
It also comprises the installation of ship to shore quay cranes and modern cantilever rail mounted gantry cranes (CRMGs) and associated supporting infrastructure works.
The new terminal will connect directly to a number of port centric logistics hubs along the Manchester Ship Canal through barge.
Liverpool 2 project programme director Douglas Coleman said the commencement of the procurement process is a landmark stage in the development of the Liverpool 2 container terminal, and the project anticipates massive interest from companies throughout the ports construction industry.
"We have given this great thought, and the adoption of CRMG technology also means that ships are going to be serviced very quickly," Coleman said.
"They are more modern than our current straddle carrier operation, and are a high-technology solution. This will be one of the UK's most modern container terminals, and that includes the crane technology."
Image: Liverpool 2 will be opened in 2015 and is expected to accommodate two container vessels of up to 13,500 teu at a time.