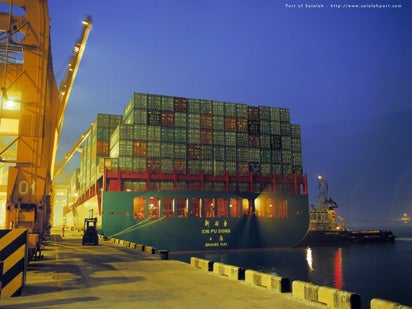 Oman's Ministry of Transport and Communications has awarded an OMR55m ($143m) contract to double the cargo handling capacity of the Port of Salalah over the next four years.
The expansion, which will be carried out by Dutch-based marine contractor Archirodon Construction (Overseas ) Company, is expected to increase dry bulk cargo handling capacity to 20 million tonnes and liquid cargo capacity to over six million tonnes per year.
Port of Salalah CEO Peter Ford said the general cargo business has been growing rapidly at the port and this new expansion will play a significant role in serving the continued development of businesses in Oman and the surrounding region.
"We are committed to making the resources available to enable Salalah to assume a major role as a regional hub for liquid and general bulk cargoes, in addition to containers, as we meet the growing demands for increased economic activity in the Dhofar region and the growing international investment projects in Oman," Ford said.
As part of the expansion, a general container terminal will be built with an additional 1,200m of multi-purpose berths with 18m draft, and liquid commodities loading facilities.
Expansion of the liquid terminal will help the port to expanding its handling of various types of liquid cargo, including methanol, fuel, monoethylene glycol, and caustic soda.
Currently, the Port of Salalah has a container terminal comprising of seven berths of up to 18m draft and a general cargo terminal of twelve berths of up to 16m draft.
The Port of Salalah is owned by the APM Terminals Global Port, Terminal and Inland Services Network; APM Terminals holds a 30% stake, the Omani government holds a 20% stake and the remaining 50% share is owned by private investors.
---
Image: The expansion project at the Port of Salalah is expected to increase dry bulk cargo handling capacity to 20 million tonnes per year. Photo: Port of Salalah.