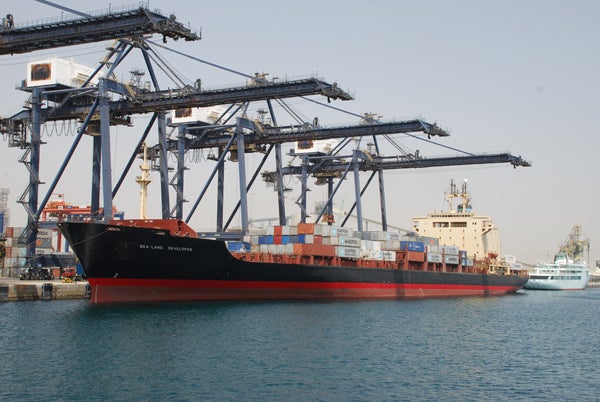 Oman International Container Terminal (OICT) has started a RO50m ($129.5m) project to expand the container terminal capacity of Port of Sohar.
Expected to be completed by the end of 2014, the project will increase the container handling capacity at the port from current 800,000teu to 1,500,000teu.
After completion, the port will have a total quay length of approximately 1km and 68ha of container yard.
The expanded terminal will add three more post-panamax quay cranes and 14 RTGs to the four existing quay cranes.
Completion of the project will help in consolidating the existing and future container handling operations at the port as well as enable OICT's Terminal C to handle container vessels up to the size of 9,000teu.
Sohar Industrial Port Company CEO Andre Toet said the expansion will attract more mainliners in the near future, further reducing logistics costs in the Omani supply chain.
"Combined with the transition of commercial cargoes from Muscat Port to Sohar by the end of this year and the fast pace development of Sohar Freezone, this will serve as a strong addition to the captive base," Toet said.
"A consortium of large container shipping lines, the so-called 'G6' is already expanding in using Sohar as their port of call."
CEO of OICT Captain Rashid Jamil said the expansion will not only make Sohar more attractive for transshipment cargo, it will also bring back the Omani cargoes that are currently being served by neighbouring country ports.
"This volume is estimated to be around 200,000teu per annum, approximately 25% of the total Omani domestic market," Jamil said.
"This will increase the possibilities for the trade to increaser their logistic activities in Oman itself and therewith open up more local job opportunities."
OICE is also looking to develop the port capacity further by building Terminal D by 2018, which will increase port capacity by 2.5 million teu.
---
Image: The expansion of the terminal will increase the container handling capacity at the Port of Sohar from current 800,000teu to 1,500,000teu. Photo: Port of Sohar.