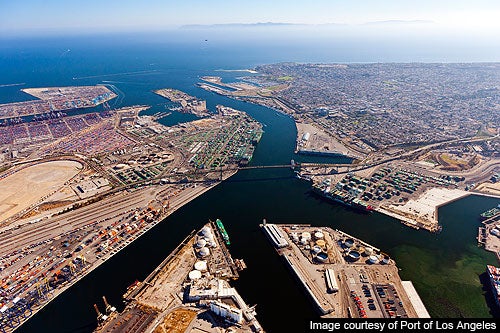 US-based terminal operator Ports America has secured a five-year contract from the Port of Los Angeles to provide operation, management and maintenance of the port's cruise terminal 'World Cruise Center', at berth 90-43 in San Pedro, California.
Under the deal that includes two five-year options, the terminal operator will be responsible for providing cruise terminal management, maintenance and repairs, security, special event management and the collection of dockage, wharfage and terminal fees.
The port's passenger terminal has a total land area of 18 acres, total berth length of 2,850ft and water depth of 37ft, while the length of the concourse is 1,102ft and width of the navigational channel is 1,000ft.
It also features two terminal buildings, four passenger processing areas, expedited US Customs security clearance and baggage handling system, secured parking, and passenger shuttles.
Ports America terminal manager Cruise Operations Octavio Sanchez said, "Our level of expertise, experience and acumen in cruise operations gives us the ability to provide optimal service to all cruise lines."
Ports America currently operates in more than 42 ports and 80 locations in addition to managing all types of cargo, including container, bulk, breakbulk, automotive, project, military and cruise.
In April 2013, the Port of Los Angeles completed a ten-year, $370m channel deepening project to accommodate bigger ships.
The US Army Corps of Engineers carried out the Main Channel Deepening Project, which deepened the port's main channel, west basin channel and east basin channel from 45ft to 53ft.
Facilities of the Port of Los Angeles are spread over 7,500 acres of land and include an automobile terminal, two break bulk cargo terminals, nine container terminals, two dry bulk terminals, seven liquid bulk terminals and two passenger terminals.
---
Image: Ports America will offer cruise terminal management, maintenance and repairs at Port of Los Angeles's World Cruise Center.