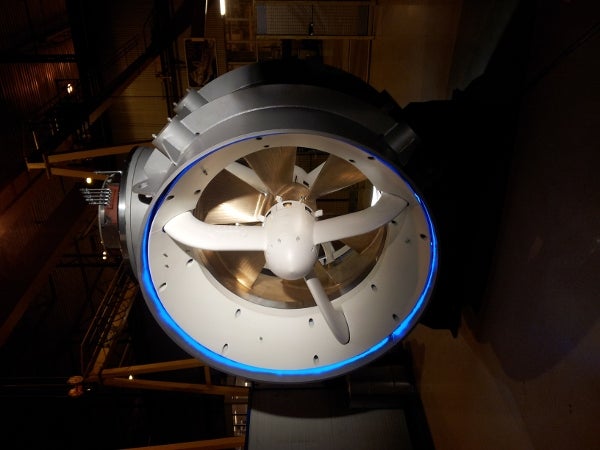 Rolls-Royce has delivered the first of its newly-developed permanent magnet tunnel thrusters (TT-PM) to Norwegian ship owner Olympic Shipping.
Olympic Shipping will install the thruster into the hull of the Olympic Octopus, a Rolls-Royce design UT 712 L multifunctional anchor-handling vessel (AHTS).
The new thruster design concept is based on a permanent magnet motor in a rim, which drives the propeller in the centre and also frees up space directly above the thruster where traditional tunnel thruster motors are located, making room available for other equipment or alternative use.
Compared to traditional tunnel thrusters, the new TT-PM offers an increase in power output of around 25% compared to similar size propellers, lower noise and vibration, and capability for underwater removal, eliminating the need for dry docking.
Rolls-Royce president of offshore Anders Almestad said that the TT-PM is suitable for a range of applications in offshore and merchant vessels, where operators will benefit from its high power output and rapid response to power demand, combined with exceptionally low noise levels.
"It is capable of running for thousands of hours in intensive operations such as the harsh conditions of the offshore oil and gas fields, where rapidly varying loads and alternating thrust directions are the norm," Almestad said.
The permanent magnet motor includes two main parts; a stator that carries a number of electrical coil windings, and a rotor equipped with a number of very strong permanent magnets.
A rotating magnetic field is created by the stator that interacts with the fields of the permanent magnets on the rotor, generating force to drag the rotor around, providing mechanical power.
---
Image: Rolls-Royce's first permanent magnet tunnel thrusters will be installed on the hull of the Olympic Octopus Photo: Rolls-Royce.