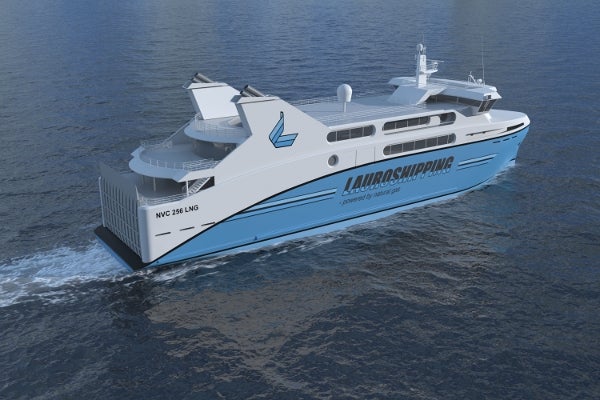 British power systems manufacturer Rolls-Royce has signed an agreement with Italian firm Lauro Shipping to jointly design new gas-powered ferries based on the Environship concept.
The agreement follows previous orders for cargo ships of the Environship design, which aims to reduce CO2 emissions by about 40% compared to similar diesel-powered ships.
Under the deal, both companies will work together to develop the design, designated NVC 256, before engaging with suitable ship yards.
The NVC 256 vessel will be capable of transporting passengers and vehicles and is the latest ship design from the Rolls-Royce Environship range.
The proposed basic design of a new ship class will be scalable for smaller and larger versions, said Rolls-Royce.
The ferry concept will include Rolls-Royce systems, equipment and ship design, Bergen LNG-fuelled engines, a wave piercing bow and the Promas combined propeller and rudder.
Rolls-Royce Promas propulsion system also features a hybrid shaft generator (HSG) that produces electrical power from the propulsion engines as an alternative to running auxiliary diesel generators.
The HSG in the Promas propulsion system, which improves the efficiency of the vessel by 5% to 8%, optimises onboard power generation in addition to reducing fuel consumption and exhaust emissions.
Lauro Shipping chief executive Salvatore Lauro said: "We're pleased to announce this teaming agreement with Rolls-Royce to jointly develop and innovative environmentally friendly Ro-Pax ferry design that will meet the latest technological requirements for emissions while reducing fuel consumption and operational costs."
Rolls-Royce president – merchant Neil Gilliver said: "We have a huge amount of operational experience with gas-powered vessels, particularly in Norway, and the fact that Lauro Shipping is leading the way in the Mediterranean further enhances the global prospects for liquid natural gas (LNG) as a marine fuel."
Compared to a diesel engine, the Bergen B&C Series lean burn gas engines that are used in the Environship produce about 22% less CO2 per unit of power.
The use of gas-fueled engines means that NOx emissions are reduced by about 90%, while SOx emissions are negligible.
---
Image: Rolls-Royce and Lauro Shipping will jointly develop a new class of ro-pax vessel based on the Environship concept. Credit: Rolls-Royce.