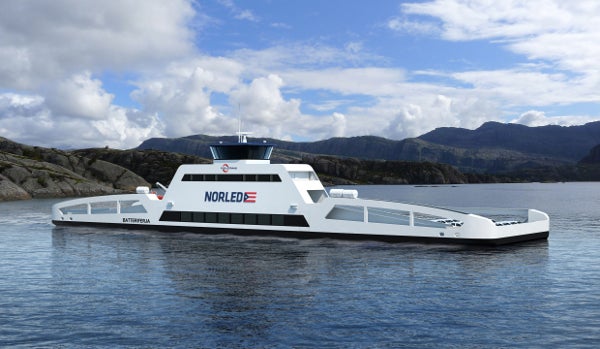 Rolls-Royce has secured a contract from Norwegian shipbuilder Fjellstrand to provide its Azipull propulsion and control system for a new battery-powered ferry.
The ferry is being built at the Fjellstrand yard in Norway,and following delivery it will be operated by Norwegian transport firm Norled, which has been granted a license to run the service until 2025 between Lavik and Oppedal.
The Azipull propulsion system, which uses pulling propellers as opposed to conventional azimuth thrusters, will help the battery-powered ferry meet the objective of being 15-20% more energy-efficient than similar existing vessels.
Rolls-Royce president – merchant Neil Gilliver said: "The combination of good manoeuvrability and reduced energy consumption provides a highly efficient ferry for Norled, with significantly reduced operating costs and improved environmental performance."
The new battery-powered catamaran will be capable of carrying 120 cars and 360 passengers at a speed of about 10 knots, taking 20 minutes to complete the journey between Lavik and Oppedal.
The existing vessel operating on the route uses about one million litres of diesel per year and emits 2,680t of carbon dioxide and 37t of nitrogen oxides.
The 80m ferry, which will operate only on battery power, will charge its lithium-ion batteries while loading or unloading cars, and overnight when moored along the quay.
Developed by Fjellstrand in cooperation with Siemens, the new ferry has been designed to accommodate the requirements of an electric drive system.
The ferry's two slim hulls provide less resistance in the water, while its electric motors are powered by a 10t battery that can be recharged in ten minutes.
---
Image: The new battery-powered catamaran will be operated by Norled between Lavik and Oppedal. Credit: Karolina Adolfsson Norled AS.