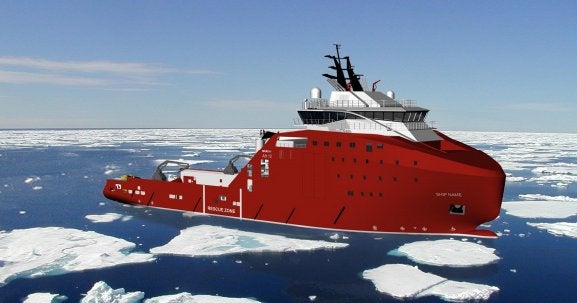 Rolls-Royce has won a new £15m contract from STX OSV to supply a deck equipment package for an advanced anchor handling tug supply (AHTS) vessel to be operated by Iceman.
Under the deal, Rolls Royce will provide a new anchor handling frame (AHF) and a hydraulic anchor winch, which is capable of pulling 500t of weight.
The delivery package will also include anchor handling cranes and systems that will help in controlled management of wires and chains when pulling heavy loads.
The new AHF is designed to reduce the handling forces and wire tension during anchor deployment and retrieval operations, and is mounted at the stern of the vessel to ease the deployment and recovery of anchors.
It also minimises the human exposure to unsafe operating conditions and makes it easier to deck the anchor with correct orientation and without repeated efforts or assistance from other vessels.
The vessel is part of a contract won by Singapore's STX OSV from Iceman in April this year to design and build one AHTS.
STX will design and build an AHTS vessel with an overall length of 94m and beam of 24m.
Built on the AH 12 design, with wide beam and according to ice class, the vessel will be used for multi role operations in harsh and arctic areas.
The vessel's hull will be delivered from STX OSV in Romania, while the AHTS is scheduled to be delivered from Norway in mid-2013.
---
Image: Rolls Royce will supply a new anchor handling frame (AHF) and a hydraulic anchor winch for the new AHTS being built for Iceman. Photo: STXOSV