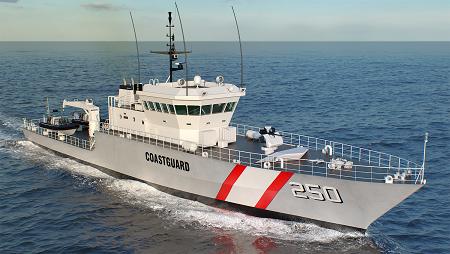 UK-based Rolls-Royce has unveiled a new design of maritime patrol craft at the Defence & Security Event International (DSEI) in London, UK.
The new 55m craft, which showcases the first of a 'protection vessel family' of designs, weighs around 500t.
The vessel features equipment such as stabilisers, thrusters, steering gear, fixed-pitch propellers supplied by Rolls-Royce, and diesels, diesel generators and Callosum IPMS from MTU.
The vessel is suitable for patrol, search and rescue, and interception duties.
The next design will be a 90m version of the craft, which will be offered by the end of 2013, while a 75m design is expected to be launched in 2014.
Rolls-Royce naval ship design chief Garry Mills said coastal protection and offshore patrol vessels represent a growing sector and the new design offers 'multi-purpose capability, incorporating core design elements that are replicated across the family of vessels'.
"Our customers often face short timescales in the procurement of this type of craft, and having a scalable, cost-effective offering is essential," Mills said.
"There is a growing trend of commercial marine technology crossing into naval markets as governments seek cost reduction through proven capability," Mills added.
---
Image: Rolls-Royce has unveiled a new maritime patrol vessel design at DSEI in London. Credit: Rolls-Royce.