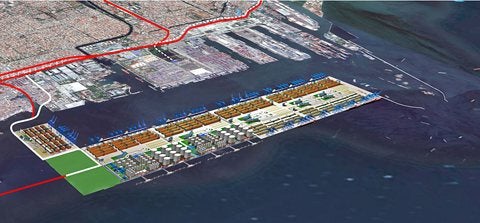 Netherlands-based consultancy, engineering and project management service provider Royal HaskoningDHV has secured a contract from Indonesian Port Corporation (IPC) to supervise the expansion of the main port of Jakarta in Tanjung Priok, Indonesia.
The deal is part of the North Kalibaru Terminal Development Project and the first phase includes the development of a 4.5 million teu container terminal.
Under the deal, Royal HaskoningDHV will serve as lead consultant for the first phase construction of the project along with Indonesia-based sub-consultant PT Atrya Swascipta Rekayasa.
The deal will see the Netherlands-based firm supervise construction works, which include land reclamation, revetments, an access bridge, a container yard and quay structures.
Construction works under the project have already started, with the first new container terminal scheduled to commence operations in 2014, while the first phase of the project is expected to be completed in 2018.
Tanjung Priok port currently manages a major part of Indonesia's imports and exports and after completion of the project in 2023, the container handling capacity will grow more than three times to 18 million teus.
After completion, North Kalibaru Port will be a new terminal within the Tanjung Priok port and will help in strengthening the country's logistics chain, as well as improving seaborne trade.
North Kalibaru Port project director Herman Pals said the project is a strategic one for Indonesia in terms of infrastructure development.
"At the peak of the construction period, we will mobilise a team of over 50 staff to provide the multidisciplinary expertise required to deliver the complete supervision works and to resolve any issues arising from the construction works.
Pals continued by saying that the company will face challenges during construction due to the construction of the port on very soft soils.
"Standard reclamation by landfill is not possible for the first terminal because of large ground settlements and the time required allowing the ground to settle," Pals added.
"This means that the first terminal, including the complete container yard, will consist of a concrete deck on foundation piles, which is rather unusual."
---
Image: First new container terminal at Tanjung Priok port will start operations in 2014, while first phase of the expansion project is scheduled to be completed in 2018. Photo: Royal HaskoningDHV.