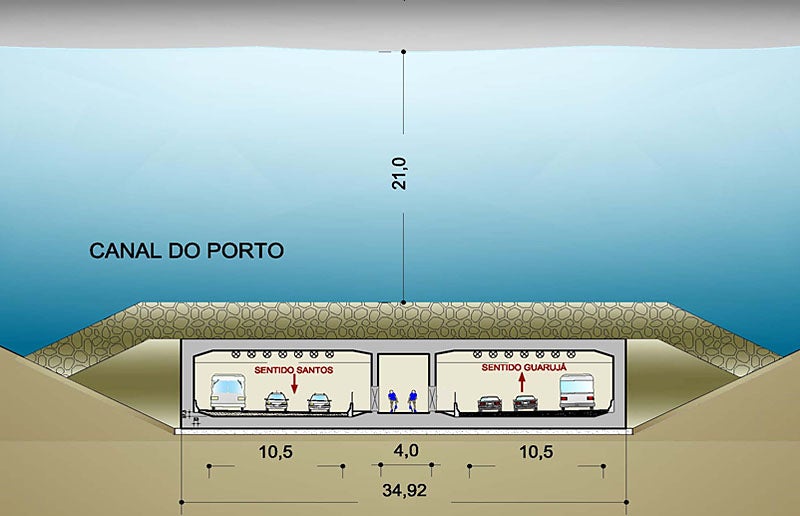 Netherlands-based engineering and project management firm Royal HaskoningDHV has secured a €5m contract to build a 500m immersed tunnel at the Port of Santos in Brazil.
The new tunnel will provide a direct connection between the cities of Santos and Guarujá, which are located on either side of the access channel to the main port of Brazil.
Construction of the new tunnel is expected to reduce the burden on the current passenger ferry services, as well as driving time for freight vehicles between the two cities.
Under the deal, Royal HaskoningDHV will lead the design process and oversee the content of the 500m tunnel, which will be the first of its type in Brazil.
The port's employees currently travel to the port by ferry, while vehicles face a 50km detour when travelling to and from the port.
The technology required for the construction of immersed tunnels has been used for several projects in the Netherlands, including the Second Coen Tunnel in Amsterdam, the Second Benelux Tunnel in Rotterdam and two tunnels on the route of the HSL-Zuid high-speed rail link.
Royal HaskoningDHV has been working on tunnelling projects for 25 years under a partnership with Witteveen + Bos called Tunnel Engineering Consultants (TEC ).
TEC's previous experience of working on immersed tunnel projects includes the 19km Fehmarn Belt between Denmark and Germany, the 3.4km Busan-Geoje Link in South Korea , the 6km Hong Kong-Zhuhai-Macau Link in China and the 1.5km Coatzacoalcos tunnel in Mexico.
---
Image: The new 500m immersed tunnel at the Port of Santos will reduce the burden on passenger ferry services and cut driving time between Santos and Guarujá. Photo: Royal HaskoningDHV.