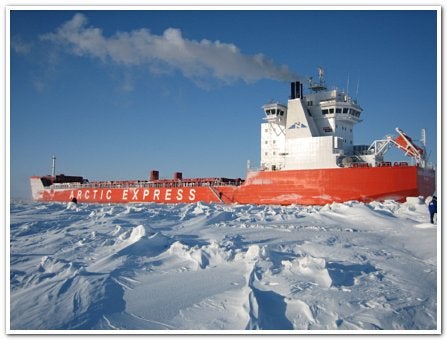 Russian Maritime Register of Shipping (RS) is planning to change its rules for vessels operating in Arctic seas.
Scheduled to be effective from 2014, the new requirements will be regarding damage trim and stability calculations done during possible ship damage.
RS chief executive officer Mikhail Grigoriyevich Ayvazov said the development of Arctic deposits is possible via construction of a large number of icebreakers and ice class ships.
"Therefore, the shipbuilding of today will need technical standards to enable a reduction of construction costs for these ships to be achieved without harm to their safety," Ayvazov said.
"The new RS requirements focus on the current needs of the industry and will make the ice ship design and construction process highly efficient."
According to the existing norm of the agency, icebreakers between 50m to 75m long are required to withstand damage to a single compartment in areas with double-side constructions, and for icebreakers more than 75m long to withstand damage to two adjacent compartments.
RS says the old requirements may be considered to be unnecessary, based on supervision of up-to-date icebreakers and ships of arctic ice categories designed for icebreaking operations, but not vessels solely designed for icebreaking work like supply vessels.
RS has developed new requirements for icebreakers and ice class ships having ice category marks Icebreaker6 and Icebreaker7 in their class notations in order to meet the conditions and proceedings from international practice.
According to RS, the new requirements will comply with damage stability criteria for icebreakers with damage to a single compartment regardless of their length.
The new norm applies to ice class ships engaged in icebreaking operations but the vessels not having 'icebreaker' as main purpose will be allowed to withstand minor ice damage up to double bottom tanks not reaching deep into the compartment.
RS' new requirements are said to be developed according to the international safety standards for vessels operating in polar waters.
The launch is also expected to improve the growth of the Russian classification society in the global market of classification services.
---
Image: The new rule for ice breakers is scheduled to come into force in 2014. Photo: Russian Maritime Register of Shipping.