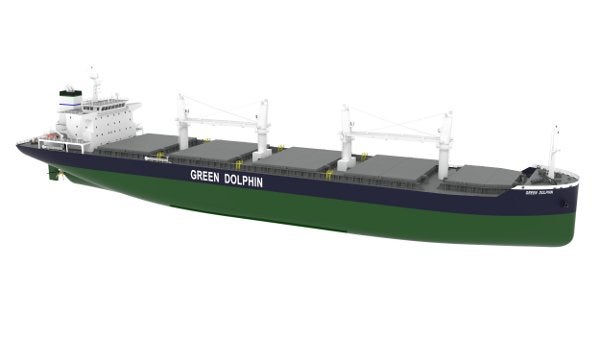 Shanghai Merchant Ship Design & Research Institute (SDARI), along with DNV and Wärtsilä, has unveiled a new handysize bulk carrier concept design called the Green Dolphin.
The new Green Dolphin uses existing technologies to achieve fuel efficiency and operational flexibility while preparing the vessel for upcoming environmental regulations.
SDARI president Hu Jin-Tao said that the focus has been on reducing fuel consumption while giving owners different options to meet future environmental regulations.
"The concept design is ready for the owners' preferred choice, whether that it is to run on heavy fuel oil using emission treatment systems or to switch to low sulphur fuels or LNG," Jin-Tao said.
Green Dolphin is a five-cargo-hold CSR double-hull bulk carrier with a length of 180m, breadth of 32m and depth of 15m that will meet air and water emissions regulations.
It will also have a design draught of 9.5m, scantling draught of 10.5m, and be capable of carrying 38,800dwt with a speed of 14 knots.
The vessel's hull has been designed by SDARI and DNV and provides enhanced performance at different loading conditions, speeds and sea states, while its propulsion efficiency has been increased by equipping it with a wake equalising duct in front of a large-diameter, slow-rotating propeller.
It is also equipped with a rudder transition bulb and rudder fins that help reduce the hub vortex and recover rotational losses.
Green Dolphin will also be fitted Wärtsilä's two-stroke low-speed RT-flex50 main engine, which is Tier II compliant engine and can be modified to dual-fuel engine in the near future which will allow the use of heavy fuel oil, low sulphur fuel and distillates.
Wärtsilä Ship Power business development director Giulio Tirelli said that the design variants are available for fuel switching systems, installation of selective catalytic reduction and exhaust gas scrubbing systems and, in the near future, the use of LNG as fuel.
"The concept design also includes shaft torque and exhaust gas monitoring equipment to maximise the fuel consumption optimisation possibilities while constantly monitoring emissions," Tirelli said.
The vessel will also equipped with a ballast water treatment system, as well as holding tanks and treatment systems for sewage and bilge water.
---
Image: Green Dolphin is a five-cargo-hold CSR double-hull bulk carrier having a length of 180m, breadth of 32m, depth of 15m. Photo: DNV