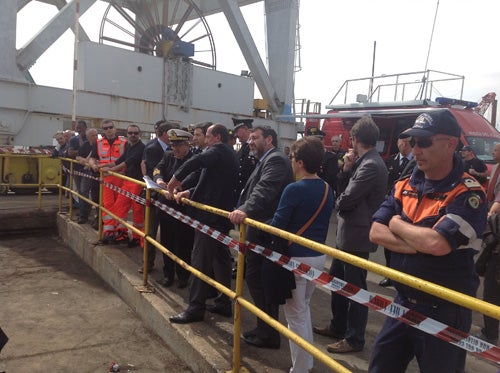 Seven people have died and two others are missing after the cargo ship Jolly Nero crashed into a control tower at the Italian port of Genoa.
The accident happened at around 11pm on Tuesday, when the shift change was taking place at the control tower.
About 13 people were reportedly inside the building when the cargo ship, owned by Italian firm Ignazio Messina, barged into the 50m tower while manoeuvring out of the port.
Jolly Nero, carrying trucks and containers, was moving backwards towards the control tower and was expected to navigate towards the open sea after the routine manoeuvre.
The 40,600t Italian-flagged vessel was on its way to Naples, and being helped by tug boats on its way out of the port.
The cause of the crash is yet to be confirmed, but Italian Transport Minister Maurizio Lupi was quoted by local media as saying that the crash could have been caused by the failure of the ship's engines or tugboat cables.
Jolly Nero's pilots as was quoted by Genoa's Il Secolo XIX newspaper as saying: "Two engines seem to have failed and we lost control of the ship."
Genoa Port Authority president Luigi Merlo told Il Secolo XIX: "It's very difficult to explain how this could have happened because the ship should not have been where it was."
Following the incident the captain of vessel, Roberto Paoloni, and the onboard harbour pilot are being investigated on charges of manslaughter.
The control tower housed the radar and radio equipment used for communication with ships; as the tower has been destroyed, Savona port located 55km west of Genoa has been given the task of handling communications until Genoa's ship traffic control system is restored.
UPDATE: According to maritime services provider Inchcape Shipping Services, commercial and passenger traffic resumed at the Port of Genoa on Thursday afternoon, while ferry and cruise traffic commenced slightly before that.
---
Image: Genoa Port Authority president Luigi Merlo at the rescue operation. Photo: Port Authority of Genoa.