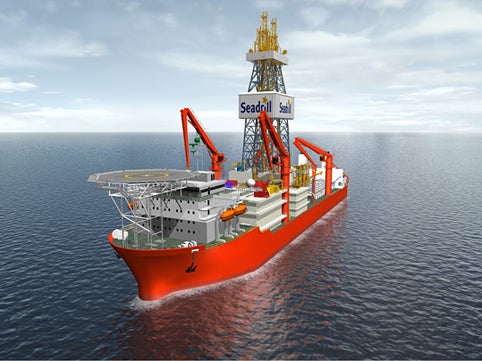 Norway-based oil drilling firm Seadrill has awarded a contract to South Korea's Samsung Heavy Industries (Shi) to build a new ultra-deepwater drillship for $600m.
The turnkey contract includes yard costs, project management, drilling and handling tools, spares, capitalised interest and operations preparations.
Delivery of the new drillship is scheduled to take place in the fourth quarter of 2014.
Additionally, the drilling firm has agreed a fixed price option for a further ultra deep-water drillship at the yard, with delivery scheduled in the first quarter of 2015.
The new drillship will be of the same design as the existing six drillships currently being built at SHI shipyard, with each having a hook load capacity of 1,250t and ability to work at a water depth of 12,000ft.
All the drillships will be equipped with seven ram configuration of the blowout preventer (BOP) stack and storing and handling capacity for a second BOP.
Upon delivery the vessels will be operated in the Gulf of Mexico, Brazil and West and East Africa.
Seadrill chairman John Fredriksen said that the deepwater drilling industry is transforming from an exploration to a development industry.
"Such a transformation will trigger a significant increase in the need for the drilling of production wells in order to connect the fields that have been successfully explored in the recent years," Fredriksen said.
"With a total order backlog in excess of US$20bn, which is likely to increase further in the months to come, the Board is confident that the new ordering can be financed without raising additional equity and will contribute positively to future valuation as well as dividend capacity."
According to Seadrill, it currently it has about nine ultra-deep/ harsh environment units for delivery between 2013 and 2015.
The company said that the initial instalments for the new drillship will be funded by using funds from the recent $1bn bond offering.
Seadrill currently has 19 units under construction, including seven drillships, two harsh environment semi-submersibles, five tender rigs and five jack ups.
The company also has fixed priced options for three ultra-deepwater/harsh environment units.
---
Image: The new drillship to be delivered in the fourth quarter of 2014 will be of the same design as the existing six drillships being built at SHI Photo: Seadrill.