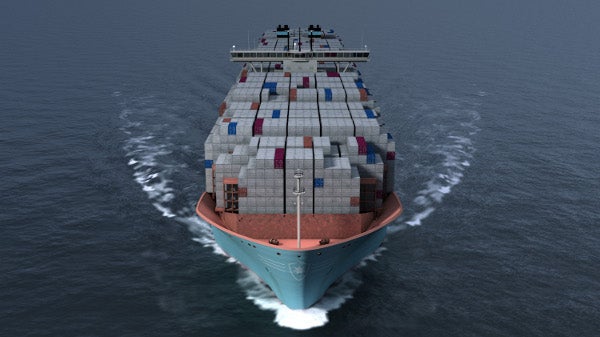 Siemens Drive Technologies Division has secured a contract from Daewoo Shipbuilding and Marine Engineering (DSME) to supply eco-friendly propulsion and power generation systems for its 18,000 teu Triple E class containerships being built for Maersk Line.
Implementation of the systems will help reduce transit costs and reduce CO2 emission in accordance with the International Maritime Organization (IMO) norm.
Under the deal, Siemens will also provide shaft generator motors and power generation systems.
In addition, the company will provide DSME with expertise in power management and waste heat recovery control (WHR), which will contribute to a reduction in air pollutant emissions.
In February last year, DSME had won a contract from the A P Moller-Maersk Group (Maersk Line) to build 20 Triple-E class vessels.
The Triple E Class ships will have a twin propulsion system; two slow running ultra-long stroke engines that drive separate propellers.
Two 3 MW Shaft Generator Motors (SGM) power generation systems from Siemens Drive Technologies with WHR will be installed on the ships.
According to the company, through the WHR, the exhaust gas from the engine is captured and used to run the combined exhaust gas/steam turbine genset, which generates electrical energy.
The electrical energy will help in reducing fuel consumption and provide a 12% reduction in CO2 emissions.
Siemens' EcoMain Decision Support System will also help optimise the vessel's energy balance and cut energy utilisation.
Earlier this month, DSME started construction of the 18,000-teu vessel at its Okpo yard in South Korea.
The company said that the first ten vessels will be delivered in 2013 and 2014, while the second set of ten vessels are expected to be delivered in 2014 and 2015.
---
Image: DSME built Triple E Class ships will be equipped with a twin propulsion system. Photo: Maersk