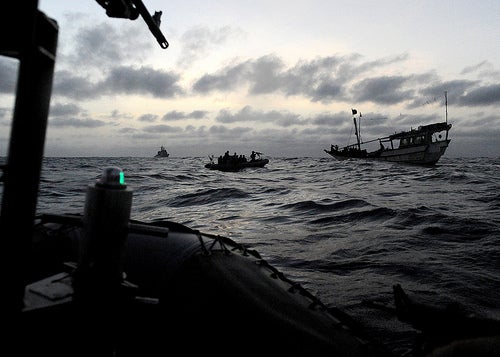 South Africa has signed the United Nations (UN) code of conduct against the repression of piracy and armed robbery against ships in the Western Indian Ocean and the Gulf of Aden.
South Africa is the 19th country to sign the code, which was formulated by the International Maritime Organization (IMO) to develop regional capacity to counter piracy in the region.
Other countries that have signed the code are the Comoros, Djibouti, Egypt, Eritrea, Ethiopia, Jordan, Kenya, Madagascar, Maldives, Mauritius, Oman, Saudi Arabia, Seychelles, Somalia, the Sudan, the United Arab Emirates, the United Republic of Tanzania and Yemen.
Signatories of the code of conduct will start co-operation in a range of activities, including the investigation, arrest and prosecution of persons suspected of indulging in piracy and armed robbery activities on ships.
The code allows the collaborating countries to seize and interdict suspect ships and property on board such ships, rescue ships, persons and property affected by piracy and armed robbery, and facilitate proper care, treatment and repatriate seafarers, fishermen, and other shipboard personnel and passengers.
The signatories will also carry out joint operations, including among both signatory countries and with navies from countries outside the region, on patrol ships or aircraft of another signatory.
Under the code, the countries will share piracy-related information through the three Information Sharing Centres set up in Sana'a, Mombasa and Dar es Salaam.
The countries will also formulate national legislation to ensure criminalisation of piracy and armed robbery against ships and to make provision for the exercise of jurisdiction, conduct of investigations and prosecution of alleged offenders.
---
Image: South Africa was the latest among a number of countries to sign the Djibouti Code of Conduct against piracy. Photo: US Navy, Mass Communication Specialist 2nd Class Ja'lon A. Rhinehart/Released