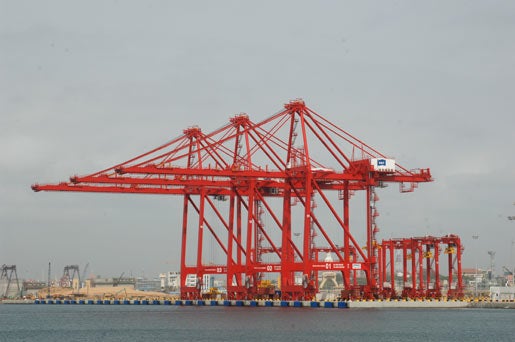 Sri Lankan President Mahinda Rajapaksa has opened a $500m container terminal at Colombo Port.
The South Container Terminal was built and is operated by Colombo International Container Terminals (CICT), a joint venture between China Merchant Holdings International and the Sri Lanka Ports Authority.
The South Container Terminal will have a capacity to handle handle 2.4 million containers per year and is expected to increase Colombo's container capacity by about half.
The terminal is part of the expansion of the port, which can now handle mega ships of over 18,000teu capacity.
Colombo Port now features a new breakwater spanning 400m, a deeper basin, three new terminals and facilities to send goods faster to other ports in the region.
The East and West container terminals are currently in the planning stages.
After completion, the three terminals are expected to add a combined container handling capacity of 7.2 million TEUs to existing port operations.
Rajapaksa said that by 2020, the expected income from the Port of Colombo would be LKR100bn ($758.6m)
"In the presence of Somalia pirates, it is safer for ships (from the Far East to Europe) to stop over at Sri Lanka and head to Cape of Good Hope without calling at Dubai port," Rajapaksa added.
Asian Development Bank (ADB) provided a $300m loan for the construction of breakwater infrastructure, while the Sri Lankan Government provided $100m in counterpart funding.
Construction of the South Container Terminal was funded by $500m of private sector investment secured by CICT.
ADB vice president Xiaoyu Zhao said the new facilities at Colombo Port will help it serve the Indian subcontinent.
"The enhanced deepwater facilities at Colombo Port will strengthen its strategic position on the key Asia-Europe shipping route, and would significantly boost regional trade," Zhao said.
---
Image: The expansion of Colombo Port includes the construction of three new terminals. Photo: Courtesy of Sri Lanka Port Authority.