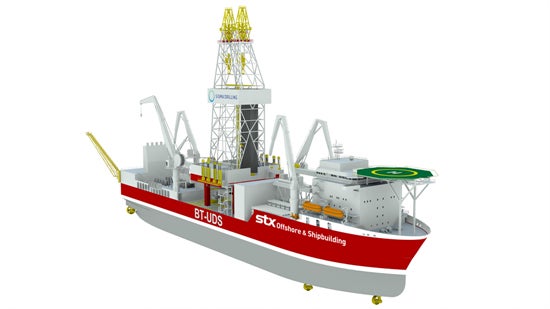 STX Offshore & Shipbuilding (STX O&S) has won a $672m contract from Norway-based Sigma Drilling to build one BT-UDS dynamic-positioned ultra deep water (UDW) drillship.
The contract also includes options for four additional drilships, which would bring the total order amount to approximately $3.5bn.
With a length of 230m, breadth of 38m and height of 18.4m, the vessel will have 40,000ft drilling depth and will be capable of drilling in water depths of 12,000ft.
The new UDW drillship will be equipped with a pair of 15,000 psi blow out preventer (BOP) stacks, which can be upgraded to 20,000 psi BOP.
If upgraded, the vessel would be one of the first 20,000 psi drillships in the world.
BOP is a core piece of equipment that prevents the explosion of high-pressured gas, water and oil out of wells during drilling operations.
STX Jinhae Yard in South Korea will build the new UDW drillship, which is expected to be delivered in the second half of 2015.
The new contract is a cornerstone project in STX O&S's plan to expand its presence in the global offshore building industry, the company said.
In November 2011, STX launched "Noble Globetrotter 2" from its Dalian Shipbuilding Complex, the second drillship the company had delivered to Noble Drilling.
In September 2012, the company won a $430m contract from an unnamed North African oil firm to build an ultra-large floating storage and offloading vessel (FSO).
---
Image: The new 230m UDW drillship capable of drilling at water depth of 12,000ft will be delivered in the second half of 2015. Credit: STX Offshore & Shipbuilding.