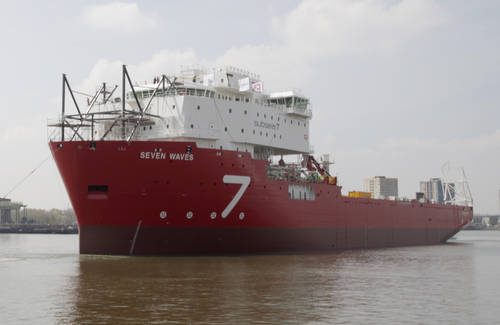 Subsea 7 has secured three contracts worth a total of $1.6bn from Petrobras for the construction and operation of three new-build flexible pipe-lay support vessels (PLSVs).
IHC Merwede shipyard in the Netherlands will be responsible for the construction of the new vessels, which will be similar to Subsea 7's 550t pipe-laying vessel, Seven Waves.
The three new PLSVs are expected to be delivered in the third quarter of 2016, the fourth quarter of 2016 and the second quarter of 2017 respectively.
Designed for operation in water depths of 3,000m, the new vessels will feature a pipe-lay system for installing flexible flow lines and umbilicals.
The scope of work on the five-year operation contracts will be similar to the PLSVs that Subsea 7 currently operates offshore Brazil, comprising project management, engineering and installation of flowlines, umbilicals and equipment supplied by Petrobras.
Each vessel will also be equipped with a Lay System tower with 550t top tension capability, twin underdeck baskets capable of storing about 4,000t of flexible flowlines and two ROVs.
The vessels will each have a length of 146m, beam of 30m and will have a class-2 dynamic positioning system.
According to the company, the total cost of the three vessels, including inventories, commissioning and mobilisation to Brazil, is about $950m.
Subsea 7 CEO Jean Cahuzac said: "Based on our experience with the construction of the Seven Waves, which is progressing well, we are confident that these three vessels will be delivered on time and in line with our cost estimates."
In May 2013, IHC Merwede launched the Seven Waves, which has been designed by IHC Offshore & Marine, in cooperation with Subsea 7.
---
Image: The three new pipe-lay support vessels will be similar to Subsea 7's 550t Seven Waves. Photo: IHC Merwede B.V.