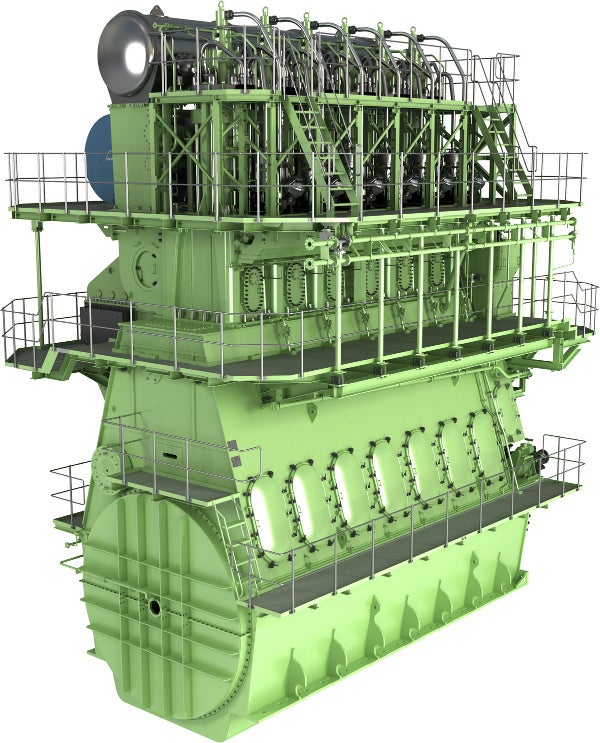 Teekay Tankers has selected MAN Diesel & Turbo's B&W G60ME-C engine for its four new 113,000dwt long range 2 (LR2) product tankers being built by South Korean shipbuilder STX Offshore & Shipbuilding under a $188m contract.
The new engines are intended to help the vessels comply with IMO environmental standards and ensure fuel efficiency.
MAN Diesel said the engines have been selected by Teekay amidst increasing bunker prices, which have risen by over 500% since 1999, as well as upcoming stricter environmental legislation.
Teekay Tankers chief executive officer Bruce Chan said: "With their fuel-efficient design, which is estimated to result in 20%-30% fuel savings compared to current vessels in the existing LR2 fleet, we believe these newbuildings will be very attractive to our customers."
Designed on the principles of the large-bore Mark 9 engine series, the G-Type engines' extended stroke cuts down engine speed and supports the design of ships with improved efficiency.
MAN Diesel & Turbo low speed sales and promotions senior vice president Ole Grone said the market has recently sought to optimise propulsion efficiency by using larger propellers and lower-speed engines.
"Fuel optimisation has also become a priority," Grone said. "We find that large merchant vessels are compatible with larger-diameter propellers following an adaptation of the aft hull design, paving the way for higher efficiencies."
The four vessels, being built at Jinhae shipyard in Changwon, South Korea, are scheduled for delivery from the second half of 2015.
The ship order includes an option for 12 additional LR2 vessels to be exercised over the following 18 months, with each vessel costing $47m.
Upon the delivery, the new product tankers will be commissioned in Teekay's Taurus Tankers LR2 Pool.
---
Image: MAN Diesel & Turbo's engines will power Teekay's four long range 2 (LR2) product tankers. Photo: Courtesy of MAN Diesel & Turbo.