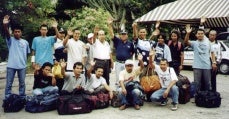 The Mission to Seafarers, a UK-based Christian welfare charity serving merchant sailors, has set up a new emergency communications fund at 47 centres across the globe for Filipino sailors.
The move by the charity came after it was approached by Filipino crewmen who were worried about their families after more than 10,000 people were thought to have been killed by Typhoon Yolanda (Haiyan), which hit the Philippines on 7 November 2013.
As part of the emergency communications fund, the charity will provide Filipino seafarers at all the centres with free access to Wi-Fi and will hand out phone cards.
Filipino sailors account for 28% of the total 364,000 crew members in the global shipping fleet.
The Mission to Seafarers justice and welfare director Ken Peters said that with so many Filipino crews around the world, they are very anxious to ensure that any crew member who needs to call home in an emergency can do so, regardless of the ability to pay.
"At the Mission, we have offered an immediate bursary for seven days to MtS centres to enable them to fund free calls home, either by connecting to Wi-Fi or to fund the distribution of free phone cards, SIMs or top up cards," Peters added.
"We will monitor this situation closely but it comes in response to so many worried and distressed seafarers who are far from home and are desperate to get news quickly as they come ashore in port."
Mombasa Mission chaplain seafarer Ben Humphries said he had been in the Mission chapel with a Filipino seafarer, Loggan, who was on the Bahamas registered cargo ship Kumasi that docked in Mombasa, Kenya and was anxious of news of his family battling with typhoon.
Loggan was desperate for his ship to sail within the range of Kenyan phone networks and was relieved after speaking to his family and watching some videos posted by friends on his phone.
Humphries said that Loggan's story is an example of the stresses that seafarers face when they await news of their family in worrying times, and this is how The Mission to Seafarers can help.
"I am delighted we are now able to offer direct, practical communications services for free, in our key centres so that other seafarers can contact home quickly at this terrible time," Humphries concluded.
Some of the ports where the free service will be available include Antwerp, Bahrain, Bangkok, Belfast, Colombo, Dubai, Falmouth, Hong Kong, Mombasa, Port of Odessa, and others.
---
Image: The Mission to Seafarers sets up emergency communications fund at 47 centres worldwide. Credit: The Mission to Seafarers.