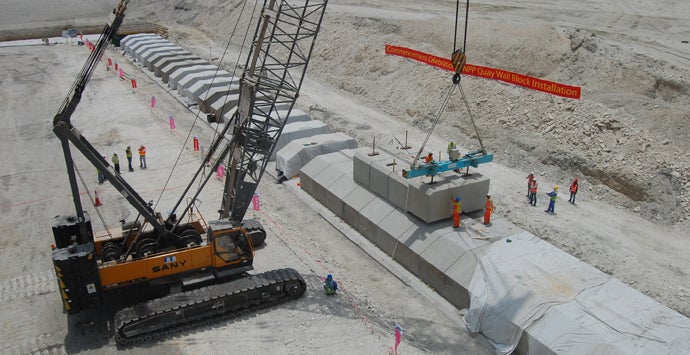 Trelleborg Marine Systems has secured a $24.5m contract to deliver a marine fender solution for the New Port Project (NPP) in Doha, Qatar.
Under the contract, Trelleborg will provide the new Doha Port with 829 fender systems, including 557 super cone fenders for the port's marine services terminal, container terminals, flour mill and main vehicle terminal.
Each of the container terminals at the port will be capable of accommodating the world's largest container vessels.
The deal is claimed to be the biggest ever order for fender solutions. Delivery is scheduled to start at the end of 2012 and expected to be completed in early 2015.
The $7.4bn port project will span 26.5 km² in Qatar and have a cargo handling capacity of six million teu per year.
Trelleborg Marine Systems president Richard Hepworth said: "We expect this type of project – requiring in-depth engineering and application know-how and total fender solutions, including a large number of large fenders – to become more prevalent due to the increase in vessel sizes and traffic coming through major ports."
Trelleborg will also supply 139 ANP Arch rubber fender systems for the port marine services terminal and the vehicle terminal ro-ro ramp, while the 111 UE-V 250 X 3000 rubber fender systems will be deployed in the coast guard terminal, as well as the 22 SeaGuard foam-filled fenders for a future terminal.
Trelleborg's 606 bollards and ladders will be delivered to the new port, while the 22 SeaGuard foam filled fenders are for a future terminal. The fender systems will be installed at different locations along the entire 8.5km of new quay wall.
A Dubai-based project management team within Trelleborg will manage the project, while the technical support will be provided by the company's recently expanded design centre in India.
Construction on the quay wall has already commenced and will involve laying over 35,000 concrete blocks ranging between 40t to 90t each. In October 2011, Qatar started work on the first phase of the QR25.6bn ($7.03bn) deepwater New Doha Port in Mesaieed.
The first phase is scheduled to be completed by 2016 and will see the dredging of the access channel and the building of 2.7km breakwaters. The second phase of the project is expected to start in 2020 and the third phase in 2030.
---
Image: Trelleborg's fender systems will be installed at locations across the Doha Port's entire 8.5km of new quay wall. Photo: AECOM