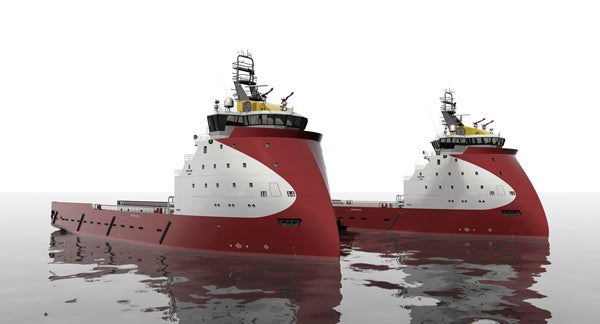 Ulstein, a Norwegian provider of ship designs, shipbuilding and system solutions, has won a contract from Singapore-based Britoil Offshore Services to provide design and equipment packages for two platform supply vessels (PSVs).
Both X-Bow vessels will be built to Ulstein's PX121 design at Britoil's own yard in Batam, Indonesia.
The new vessels will be of a similar design to Blue Fighter, the first vessel of the PX121 design that was delivered by Ulstein Verft earlier in 2012; a team from Britoil attended the vessel's preliminary sea trials.
Both PSVs, which will have similar hull lines as Blue Fighter and Blue Prosper, will be modified according to the owner's requirements, with an extra accommodation deck that will house up to 50 crew members.
Ulstein Design & Solutions managing director Sigurd Viseth said the two PSVs will be the first Ulstein-designed vessels to be built in Southeast Asia.
"The contract comprises a comprehensive equipment package including basic design, engineering support and main equipment supplied by Ulstein (generator sets, DP system, main azimuth propellers, tunnel thruster and retractable thruster, FiFi system, cargo handling system etc.)," Viseth said.
The contract also includes a power and control package with an electric propulsion system, integrated bridge solution, consoles, radio/navigation equipment, the Ulstein IAS (integrated automation system) and Ulstein COM (internal communication system).
The PSVs will be built to IMO SPS (special purpose ships) Code and will have OILREC class notation for oil spill recovery in emergency situations.
Britoil currently has a fleet of 40 vessels, mainly comprising anchor handling tugs and barges, and the new X-Bow ships will mark the firm's first PSVs.
---
Image: Both PSVs will be built at Britoil's own yard in Batam, Indonesia. Photo: Ulstein Group.