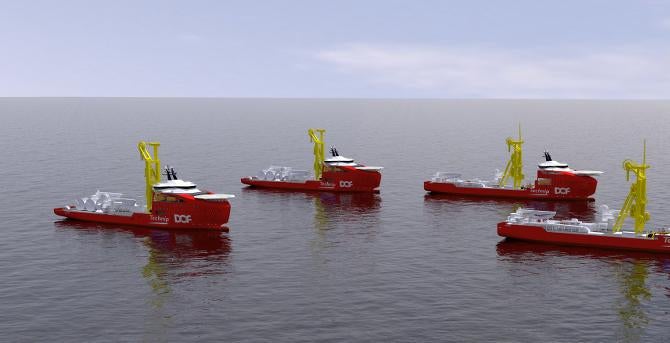 Vard Holdings (Vard) has secured contracts worth about $1.1bn from a joint venture formed by Technip and DOF Subsea for the design and construction of four new pipe lay support vessels (PLSVs).
Petrobras awarded a contract to the Technip/DOF joint venture for the new vessels for operation in Brazilian waters.
The hulls of the first two VARD 3 05 design vessels, which will have a length of 151m and breadth of 30m, will be built at Vard Tulcea in Romania and outfitted at Vard Søviknes in Norway.
Scheduled to be delivered in the second and third quarters of 2016, the two vessels are designed to achieve a 650t laying tension capacity, which will help in the installation of large diameter flexible pipes in ultra-deepwater environments, such as the Brazilian pre-salt.
The remaining two vessels will be built based on the VARD 3 16 design at Vard Promar in Brazil, and will have a 300t laying tension capacity, length of 139.9m and breadth of 28m.
The vessels are expected to be delivered in the fourth quarter of 2016 and second quarter of 2017 respectively.
Netherlands-based Huisman is responsible for delivering topside equipment for all four PLSVs.
As part of the deal from Petrobras, Technip will be responsible for flexible pipelay while Norskan, a subsidiary of DOF, will handle marine operations.
Vard executive director and CEO Roy Reite said: "VARD yards both in Europe and Brazil being chosen to build these vessels illustrates the value of having a global presence when working with international clients, and bringing leading-edge technology to new markets."
---
Image: Vard is scheduled to deliver the four PLSVs to the Technip/DOF joint venture in 2016-2017. Credit: Vard.