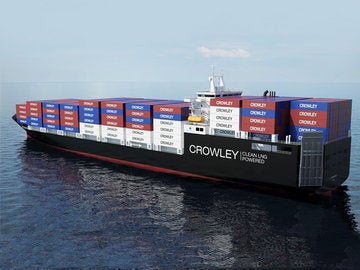 VT Halter Marine, a Mississippi-based shipyard of Singapore Technologies Engineering, has signed a contract worth $350m with Crowley Maritime to build two Container Roll-on/Roll-off (ConRo) vessels.
The construction of the vessels, which will begin in the first half of 2014, will take place at the Pascagoula facility in the US.
The two Commitment Class Jones-Act Ships, named El Coquí and Taíno, will offer low emissions, increased speed and capacity, and optimised vehicle shipping decks.
They will be used to provide shipping and logistics services between the US and Puerto Rico.
The vessels will be designed by Warstila Ship Design in collaboration with Seattle-based naval architecture and marine engineering subsidiary of Crowley, Jensen Maritime.
The ConRo ships will be 219.5m long, 32.3m wide, with deep draft of 10m, and deadweight capacity of around 26,500t; they will be able to carry 2,400 twenty-foot equivalent units (TEU) of cargo and nearly 400 vehicles.
Powered by liquefied natural gas (LNG), the main propulsion and auxiliary engines will allow the ship to travel at speeds up to 22 knots.
Compared to conventional fossil fuels, LNG is a stable gas that reduces sulphur oxide and particulate matter by 100%, and nitrogen oxide by 92%.
Crowley Maritime Puerto Rico and Caribbean services senior vice president and general manager John Hourihan said that with the LNG fuel, customers can take satisfaction in that they are getting faster, more reliable service, while reducing the amount of carbon dioxide emissions attributable to each container by approximately 38%.
Jensen Maritime vice president Johan Sperling said the ships will meet or exceed all regulatory requirements and have the CLEAN notation, which requires limitation of operational emissions and discharges, as well as the Green Passport, both issued by classification society Det Norske Veritas (DNV).
The vessels are scheduled for delivery in the second and fourth quarter of 2017.
---
Image: Crowley says its two ships will set new standards for environmentally responsible shipping. Credit: Crowley Maritime Corporation.