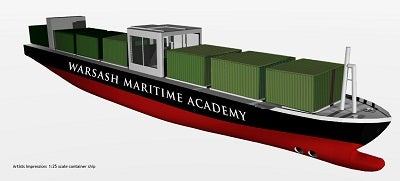 UK-based maritime trainer, Warsash Maritime Academy (WMA), will unveil a new scaled container ship model to extend its training capability for seafaring pilots, masters and ships officers.
Following its launch on 16 May 2013 at Southampton Solent University's Ship Handling Centre, the new model vessel will be the first container ship to join WMA's existing fleet.
WMA director Andrew Hair said that because the models handle the same way as a real ship does, they give experienced seafarers the opportunity to train around slow speed control, practising complex and potentially hazardous manoeuvres.
"The training builds understanding of the behaviour of ships, which is essential to develop skills in their everyday work situation," Hair said.
"With 95% of the world's trade moved by sea, ships are getting larger and waterways and ports more crowded, so scale model training is more important than ever."
The new vessel has been modelled on a real 13,000teu, 365m-long container ship, most widely used by major shipping companies including CMA CGM, Maersk and MSC.
The 1:25 scaled model is 14.62m long, weighs 12.5t and is equipped with operational power anchors, electric hydraulic steering, bow thrust and main propulsion controls.
It also features transferrable water ballast, which allows the scaled ship to operate in light or loaded conditions.
Additionally, WMA is in the process of building a sister ship to the Panamax vessel to be named 'Intrepid', which is scheduled to be operational in summer 2013.
The Ship Handling Centre offers a training platform for pilots, masters and ships officers, using several manned models, accurately scaled to that of a real ship.
Opened in 2011, the centre has been operating a fleet of seven scaled models, which include a panamax vessel, twin screw ro-ro ferry, very large crude carrier (VLCC), 40,0000dwt product tanker, twin screw shuttle tanker, suezmax and an ultra large crude carrier (ULCC).
---
Image: WMA's new scaled container ship model for training seafaring pilots, masters and ships officers will be launched on 16 May 2013. Photo: Warsash Maritime Academy.