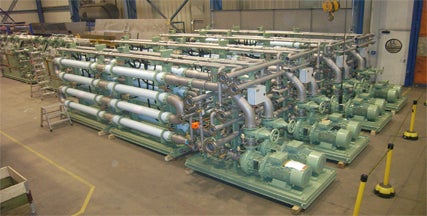 Wartsila Hamworthy has secured a contract from Italian shipbuilding firm Fincantieri Cantieri Navali Italiani to install two Membrane BioReactor (MBR) advanced waste water treatment systems on a 141,000t cruise ship.
Fincantieri's Monfalcone yard is building the 3,611 passenger capacity vessel for Carnival's British brand P&O Cruises. The ship is claimed to be the largest cruise ship to be built for the British market.
The vessel is scheduled to enter service in March 2015 and Carnival also has an option with the Italian shipbuilder for a second ship of the same size.
Wartsila Hamworthy said that the MBR system will offer quality discharge without requiring any addition or generation of chemicals that are harmful to the environment or vessel operation.
Hamworthy's Membrane Bioreactor (MBR) technology treats wastewater from the ship based on biological degradation and membrane separation, discharging higher quality water which is not hazardous when released into the sea.
Under the deal, Wartsila Hamworthy will also be responsible for UV polishing.
Carnival placed the order in June 2011 and the vessel will be built according to a twin-line funnel profile.
The vessel will be the 60th cruise ship built by the Italian shipbuilder since 1990 and the 53rd ship for various Carnival brands.
---
Image: Wartsila Hamworthy's MBRs will be installed on P&O Cruises' 141,000t cruise ship. Photo: Wartsila Hamworthy