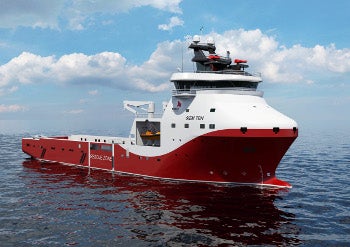 Marine industry solutions and services provider Wärtsilä is to design a new platform supply vessel (PSV) owned by Norway-based Siem Offshore and will supply an integrated system for the vessel also.
The contract includes the supply of the Wärtsilä VS 4411 LNG PSV initial, basic, and detailed ship design, along with the complete diesel electric system with the company's dual-fuel generating sets and LNGPac gas storage and handling system.
It also includes a complete electrical and automation system in addition to a four-split Wärtsilä low loss concept (LLC) system that will help bring the ship in line with the highest possible Environmental Regularity Number (ERN) of 99.99.99.99. This represents the ship's capability of maintaining its position and normal operations under certain weather conditions.
Slated to begin operations in 2015, the 89.2m-long vessel is under construction at Remontowa Shipbuilding yard in Poland.
The vessel will have the capacity to accommodate a crew of 25 and will operate primarily on liquefied natural gas (LNG) to support offshore drilling and production activities in the North Sea.
Wärtsilä's new contract follows a similar order in November 2012 with the same scope of supply for another Siem Offshore-owned PSV.
About half of the vessels in Siem's fleet currently feature Wärtsilä ship designs and equipment.
---
Image: Siem Offshore's new platform supply vessel, designed by Wärtsilä, will operate primarily on LNG. Credit: Wärtsilä.