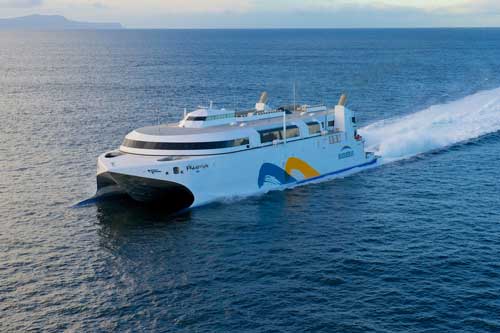 Wärtsilä has completed the deployment of two LJX1720SR axial waterjets on 'Francisco', the world's fastest high-speed ferry.
The company has also delivered an advanced propulsion control system for the ferry, which is also the first ship of its kind fuelled by liquefied natural gas (LNG).
Built by the Australian shipyard Incat Tasmania for operator Buquebus, the new 99m catamaran reached a lightship speed of 58.1 knots (107.6km/h) in its recent speed trials and is now ready to start commercial operations.
South American operator Buquebus will use the vessel to carry passengers and cars between Uruguay and Argentina.
Wärtsilä's waterjets, installed within the ferry's transom to save space, allow greater power to be applied on relatively small jets.
The company's Lipstronic 7000 propulsion control system, used for manoeuvring, is designed in accordance with International Maritime Organisation (IMO) regulations and fulfils class society requirements.
According to Wärtsilä, Lipstronic 7000 manages and indicates the steering angle, bucket position and impeller speed, and can be operated with joystick control or by autopilot.
Shipbuilder Incat said the Francisco can operate at speeds of up to 58 knots while accommodating 1,000 passengers and 150 cars.
The vessel's LNG-fuelled gas turbine plant will help it cross the River Plate at speed and compete with air traffic between Uruguay and Argentina.
Buquebus president Juan Carlos Lopez Mena said: "The 'Francisco' will be the largest catamaran to be operated by Buquebus, and the fastest, environmentally cleanest, and most efficient high speed ferry in the world."
---
Image: With Wärtsilä's LJX1720SR axial waterjets, Francisco will be able to operate at speeds of up to 58.1 knots. Photo: Wärtsilä.