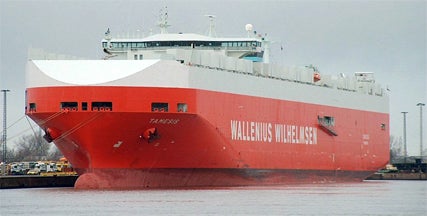 Wärtsilä Hamworthy has signed an agreement with Wilh. Wilhelmsen to install a Krystallon exhaust gas cleaning system (EGCS) on its 38,486dwt vessel MV Tamesis.
The multi-stream scrubber system will be installed on the vessel during the first quarter of next year, to help remove sulfur and particulates from the exhaust gasses of the vessel's main and auxiliary engines, which have a combined power of 28,000kW.
Krystallon EGCS will prepare the vessel for emissions regulations that come into force from January 2015, which requires that vessels must burn fuel with a sulfur content of 0.1% when operating within Emissions Control Areas (ECAs).
The Research Council of Norway will partly fund the complete third party measurement and verification programme that will be carried out over two and a half years after the commission.
Hamworthy Krystallon managing director Sigurd Jenssen said the third party measurement and verification of the project will be carried out by Marintek, the Norwegian Marine Technology Research Institute.
"We anticipate that more owners and operators will follow industry leaders like Wilh. Wilhelmsen ASA in the adoption of scrubbers in advance of the 2015 deadline," Jenssen said.
The use of EGCS will allowMV Tamesis to operate in ECAs from 2015 and means they will not have to pay $300 to $400 fee that standard vessels are required to pay to remain compliant.
Wilh Wilhelmsen project manager Thamba Rajeevan said installing Hamworthy Krystallon scrubber unit is a major step in preparing the company's fleet for the regulatory compliance.
"When new, stricter emissions regulations come into force in 2015, our experience with this technology will be a valuable tool for taking the right decisions for the rest of our fleet," Rajeevan said.
Image: Wärtsilä Hamworthy's Krystallon EGCS will be installed on Wilh Wilhelmse's MV Tamesis to prepare the ship for emissions regulations. Photo: Hamworthy