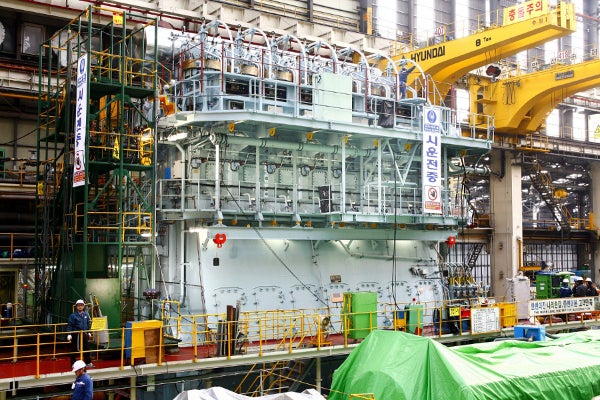 Finnish marine engine manufacturer Wärtsilä has won an order to supply the main engines for nine vessels being built at the Daewoo Shipbuilding & Marine Engineering (DSME) shipyard in South Korea for Kuwait Oil Tanker.
The engines will be installed on four very large crude carriers (VLCC), one Aframax tanker and four medium-range tankers, which were ordered by the company, a subsidiary of Kuwait Petroleum, in the first half of 2012.
The company will supply seven-cylinder Wärtsilä RT-flex 82T engines and a waste heat recovery system that uses the exhaust gas energy to generate steam for the VLCC vessels.
The Aframax vessel will be equipped with a Wärtsilä six-cylinder RT-flex 58T main engine, while the medium-range tankers will be powered by the Wärtsilä 7RT-flex50D main engine.
The company said the engines offer low specific fuel oil consumption (SFOC) across the entire operation and smokeless operation at all running speeds resulting in lower exhaust emissions.
Wärtsilä Ship Power vice president Merchant Lars Anderson said: "The choice of Wärtsilä RT-flex engines ensures that these new vessels will be both fuel and energy efficient, and that their emissions will be minimised."
Kuwait Oil Tanker signed the $556m contract for five of the new tankers with Daewoo Shipbuilding & Marine Engineering in January 2012.
Each of the VLCC vessels has a double-hull and is capable of carrying 2.2 million barrels of crude, while the fifth vessel can carry 800,000 barrels of oil products. Kuwait Oil is scheduled to take delivery of the tankers in early 2014.
---
Image: Wärtsilä's RT-flex engines can electronically control fuel injection and valve operation. Photo: Wärtsilä