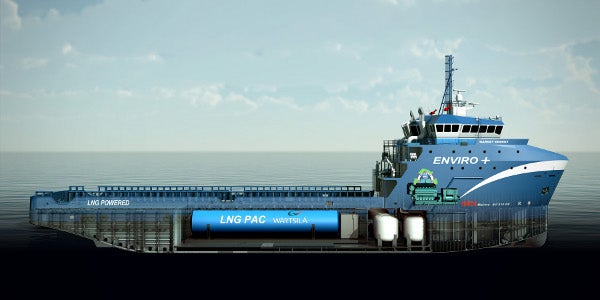 Finnish manufacturer Wärtsilä has won a contract to deliver a complete liquefied natural gas (LNG) package, including the propulsion, auxiliaries and controls, for a new offshore support vessel being built for Harvey Gulf International Marine .
Designed by STX Marine, the vessel is part of Harvey Gulf's 'Going Green' programme to reduce the environmental impact of its vessels and operations.
The latest order is the fifth that Wärtsilä has secured from Harvey Gulf for gas-fuelled propulsion systems for its vessels.
The new offshore support vessel will be operated in the Gulf of Mexico's offshore oilfields.
Under the deal, Wärtsilä will deliver steerable thrusters, an integrated automation system, a power management system, a complete low-loss concept for electrical distribution, and drive architecture.
The company will also provide the LNGPac, LNG bunkering, storage and supply system.
All five of the Harvey Gulf vessels being powered by Wärtsilä will be equipped with six-cylinder Wärtsilä 34DF dual-fuel generating sets capable of running on either LNG or conventional liquid fuels.
Harvey Gulf International Marine senior vice president Chad Verret said many permits for the eastern Gulf of Mexico already demand that operators use the best available capture technology relating to particulates.
"In my opinion, the best available particulate matter capture technology is not to have any to start with, and that's what burning LNG gives you," Verret said.
Wärtsilä Ship Power vice president of solutions Magnus Miemois said that the company aims to reduce shipping's carbon footprint through propulsion solutions and by developing integrated systems that allow ships to use LNG as fuel.
"By reducing fuel consumption through greater efficiencies, and by enabling true flexibility in fuel choice, we can significantly reduce emissions while also lowering operating costs," Miemois said.
About 85% of nitrogen oxide emissions are cut in gas mode compared to diesel operation, while CO2 emissions are reduced and sulphur oxide emissions are completely removed as gas contains no sulphur.
---
Image: Wärtsilä will equip all five Harvey Gulf vessels with six-cylinder 34DF dual-fuel generating sets as well as the LNGPac, LNG bunkering, storage and supply system. Credit: STX Marine.