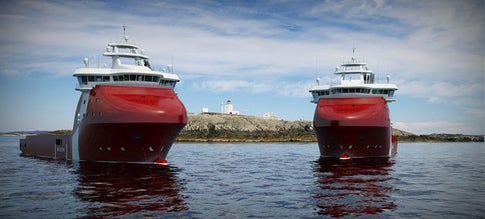 Wärtsilä has won a contract from Kleven Maritime to provide ship designs and propulsion systems for three new platform supply vessels (PSVs).
Kleven Maritime will build two vessels for Atlantic Offshore, while the third one is being built for Remøy Shipping; all the vessels will be chartered to Statoil for operations in the North Sea.
Under the deal, Wärtsilä will supply power and propulsion, electrical and automation systems, including the patented Wärtsilä low loss concept (LLC) for Atlantic's two PSVs.
The equipment is expected to be delivered in the autumn of 2013, with the three vessels scheduled to start operation by the end of 2014.
According to Wärtsilä, the designs will ensure that the vessels can endure the challenging environment in the North Sea, as well as meet the operator's cargo capacity and fuel economy requirements.
Both of Atlantic's PSVs will be based on Wärtsilä ship design VS485 with a length of 90m and deck area of 1000m², while the LNG PSV for Remøy will be based on Wärtsilä's VS4412 DF PSV design, with a length of 92m, width of 20m and a deck area of 1,080m².
The company said that the diesel-electric system will offer additional reliability for continuous operation in various failure modes.
According to the company, the vessels will have an environmental rating number (ERN) of 99.99.99.99, which represents their capacity to maintain position and normal operations in certain weather conditions.
Integrated Automation Systems (IAS) to be delivered will include the Wärtsilä ECOmeter that enables the operator to optimise the vessels' fuel consumption, attain efficiency in track planning, and ensure the efficient running of the generators.
All three vessels are also required to meet the IMO's most stringent requirements for NOX emissions.
Remøy's PSV will operate on liquefied natural gas (LNG), and is the eighth LNG PSV to be built based on Wärtsilä designs.
---
Image: Atlantic's two PSVs will be built to Wärtsilä VS485 ship design, while Remøy's LNG PSV will based on VS4412 DF PSV design. Photo: Kleven Maritime.