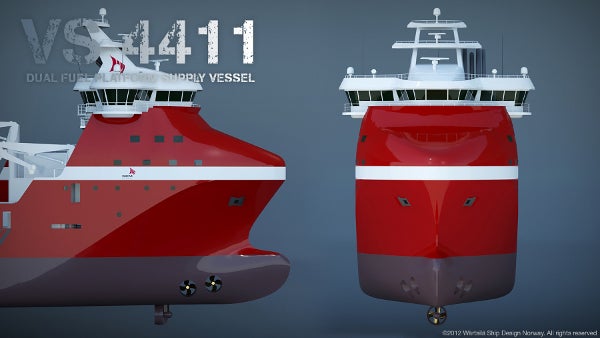 Wärtsilä has won a contract from Norwegian yard Hellesøy Verft to deliver an integrated solution including ship design services and the power and propulsion system for a newbuild LNG-powered platform supply vessel (PSV).
The PSV will be the eighth vessel built at the Norwegian yard to be based on the Wärtsilä Ship Design VS 485 series.
Scheduled for delivery in 2014, the new PSV will be owned and operated by Siem Offshore on a charter contract for French oil and gas company Total.
Designed to meet Total's North Sea operational requirements, the vessel will be operated in the Martin Linge oilfield, north-west of Stavanger, Norway.
The PSV will be built to Wärtsilä's VS4411 LNG PSV design and will be equipped with the company's power and propulsion, electrical and automation systems, as well as a complete four-split low loss concept (LLC) system.
Installation of the LLC solution will result in energy-efficiency improvements of between 2% and 4% and the reduction of electrical losses to achieve greater fuel economy, according to Wärtsilä.
The system is also intended to improve lifecycle performance, while its fully-integrated design reduces integration risks.
Capable of accommodating 25 crew members, the vessel will have a length of 89.2m, breadth of 19m and depth of 9m, and will be equipped with the Wärtsilä LNGPac LNG storage and handling system.
About half of Siem's fleet includes vessels designed and equipped by Wärtsilä; the recent PSV will be the first of its vessels to be powered by LNG.
Siem operates ten Wärtsilä-designed anchor handling tug supply (AHTS) vessels that feature complete hybrid diesel electric propulsion systems.
---
Image: The Wärtsilä VS4411 LNG PSV will be operated in the Martin Linge oilfield, offshore Norway. Credit: Wärtsilä Ship Design Norway.