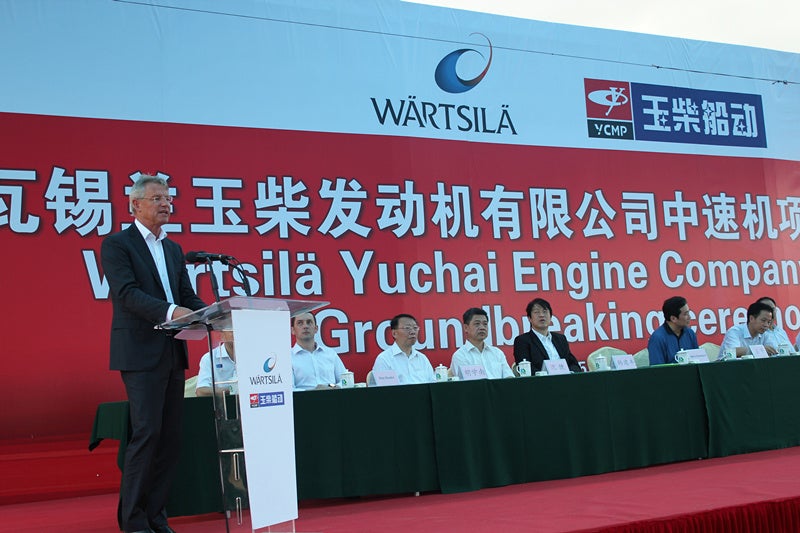 Wärtsilä Yuchai Engine Company, a 50-50 joint venture (JV) between Wärtsilä and Yuchai Marine Power (YCMP), has started construction of its new production facilities in Zhuhai, Guangdong, China.
The JV will initially produce medium-speed marine engines to serve the Chinese shipbuilding industry.
Production is scheduled to commence in 2014, and will include the Wärtsilä 20, Wärtsilä 26 and Wärtsilä 32 series of medium-speed engines.
Wärtsilä president and chief executive officer Björn Rosengren said: "The combination of Wärtsilä's industry leading technology and Yuchai's position as the leading high-speed engine manufacturer in China, will provide strong competence in manufacturing, sourcing and market access."
Yuchai Group chairman of the board of directors Yan Ping said: "Both the Yuchai Group and Wärtsilä are committed to building up the most efficient high-end medium speed engine production base in China by combining the strengths of both parties."
According to Wärtsilä, its 20, 26 and 32 series engines are fully compliant with the International Maritime Organisation (IMO) Tier II exhaust emission regulations as set out in Annex VI of the MARPOL 73/78 convention.
Wärtsilä and YCMP signed an agreement in December 2012 to establish the JV for manufacturing medium-speed marine engines; Wärtsilä's investment in the JV is about €17m.
Wärtsilä produces thrusters at its own facilities, while low-speed engines are produced by eight licensees and a joint venture company.
---
Image: Production at Wärtsilä Yuchai Engine's new facilities is scheduled to commence in 2014. Photo: Wärtsilä.