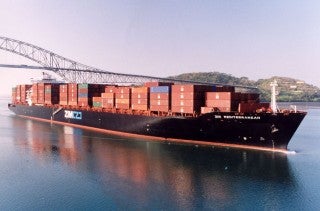 Israeli cargo shipping company Zim Integrated Shipping Services has reached an agreement with South Korean shipbuilder Samsung Heavy Industries (SHI) to cancel five newbuildings worth KRW948.1bn ($849m).
The five cancelled vessels were ordered in 2007-08 as part of a contract for nine ultra-large container ships.
The agreement also defers or cancels payments worth $235m due in 2013, and relieves the company of off-balance sheet obligations worth $1.4bn.
The deal will see Zim receive refunds of about $30m for the advance payments made to the South Korean shipbuilder for the five ships.
According to reports, the shipowner made the deal as it could not secure ship financing as a result of the global financial crisis.
Zim has an option to cancel an additional four orders, pending approval from shipyards, and has further postponed the delivery of the remaining vessels, worth KRW568.9bn ($508m), to summer 2016.
The 12,552teu vessels were originally scheduled to be delivered by 2011 but due to the financial crisis the delivery was postponed until 2015.
Following the cancellations, Zim expects to announce a loss of $133m in its financial results for Q4 of 2012.
---
Image: In addition to the cancellation of five vessels, the delivery of remaining ships will also be postponed to 2016. Photo: ZIM Integrated Shipping Services.