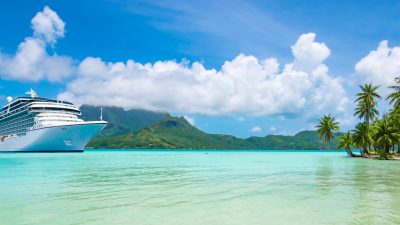 Ship Technology lists the five most popular terms mentioned in discussions related to cruise on Twitter in Q3 2021, based on data from GlobalData's Influencer Platform.
1. Covid-19 – 326 mentions
The lack of uniform Covid-19 regulations leading to confusion among cruise operators, Viking Cruises' expedition ships to have onboard Covid-19 testing labs, and Carnival Cruise Line removing plans to provide mobile Covid-19 testing services were some of the popular discussions around cruise that mentioned Covid-19.
James Walker, a maritime lawyer, shared an article on how the lack of clear Covid-19 regulations to be followed on ships is leading to confusion among cruise operators. The US Centers for Disease Control and Prevention (CDC) issued a Condition Sailing Order (CSO) mandating all passengers and staff to be vaccinated against Covid-19. The governor of Florida, however, filed a lawsuit stating that such regulations will harm the industry, which led to the CDC's guidelines being reduced to just suggestions.
Covid-19 guidelines are also lacking in the UK, forcing cruise operators to establish their own rules for guests. The article highlighted that cruise operators will face difficulties in implementing Covid-19 restrictions and control measures without guidelines endorsed by government or health authorities such as the CDC.
Chris Gray Faust, managing editor at Cruise Critic, a cruise ship review site, shared an article on cruise operator Viking Cruises' plans to have Covid-19 testing labs on its expedition ships from late 2021. Viking is the only cruise company with onboard PCR testing facilities, which were first introduced on its cruise ships in May 2021. Passengers and personnel are tested using a saliva PCR technique on a daily basis. Founder and chairman of the cruise line Torstein Hagen stated that the move is part of the company's efforts to ensure the safety of passengers as Covid-19 cases continue to increase globally.
Covid-19 was also discussed by Aaron Saunders, news and features editor at Cruise Critic, in an article on Carnival Cruise Line's plans to remove mobile Covid-19 testing services at its US homeports due to logistics issues. The cruise line previously announced plans to set up mobile Covid-19 testing sites at ports to help guests who were unable to get tested for Covid-19 within the two-day period imposed by the CDC. It, however, dropped the plans due to the logistical challenges involved in conducting testing for a large number of guests.
"Cruises have a cunning plan to stop superspreaders – International cruises are being hampered by confusing rules that could result in another Covid major outbreak" https://t.co/ULnWirRJJf via @WIRED #COVID19 #cruise pic.twitter.com/tLUpD1RsPH

— James (Jim) Walker (@CruiseLaw) September 27, 2021
2. Luxury cruise – 101 mentions
Crystal Expedition Cruises adding two new luxury voyages, the naming of Silversea Cruises' new luxury ship, and Oceania Cruises adding new product enhancements in its small luxury ships were among the widely discussed topics related to luxury cruising in the third quarter.
Ricky & Yves, cruise experts at cruise blog CruiseToTravel, shared an article on Crystal Expedition Cruises adding two new voyages on its Crystal Endeavor luxury expedition ship. The first voyage is a ten-night Luxury Iceland Expedition, which will enable guests to explore Iceland, the Faroe Islands and the Arctic Circle. The second voyage is a 13-night journey to the Thames River, which includes visits to the Grimsey Island, the Faroe Islands and the Shetland Islands.
In another tweet, a travel news media shared an article on Silversea Cruises naming its new ultra-luxury ship, the Silver Moon. The 40,700t ship has a capacity of 596 passengers and was delivered in October 2020. The ship began her inaugural season on 18 June from Athens, performing a series of ten-day trips around the Greek Isles. Silver Moon features enhanced public spaces compared to its sister ship Silver Muse. Butler service is available for all suite categories with a crew to guest ratio of about 1:1.
Another discussion on luxury was shared by a UK-based cruise magazine on Oceania Cruises implementing its OceaniaNEXT programme on its small luxury ships. The programme will bring enhancements to the dining experience on the Marina, Regatta, Insignia, Nautica, Riviera, and Sirena luxury ships. The enhancements include new menus, grand dining rooms, new cuisines and improved guest service standards.
Crystal Endeavor expands inaugural season in Iceland #cruise #luxurytravel @crystalcruises
https://t.co/wRk0HcvsRX

— Ricky & Yves (@cruisetotravel) August 8, 2021
3. Vaccines – 97 mentions
The Bahamas requiring cruisers aged 12 years and above to be vaccinated against Covid-19, Norwegian Cruise Line (NCL) being allowed to seek proof of vaccination from guests and Norwegian Gem becoming the first fully vaccinated ship to sail from Florida were some of the discussions around vaccines in Q3.
Vaccines was discussed by a media and publishing agency in an article on the Bahamas issuing a mandate that all cruisers aged 12 years and above be vaccinated for Covid-19. The Prime Minister of the Bahamas, Hubert Minnis announced the new vaccine policy which was implemented on 03 September and is applicable until 01 November. The directive, however, exempts passengers, children, personnel, contractors, and other non-revenue passengers who are ineligible to receive the vaccine due to medical concerns. The Bahamas government stated that the vaccine mandate does not exclude the need for further Covid-19 testing that may be required.
James Walker shared an article on a Miami federal district court judge granting NCL's petition to seek proof of vaccination from guests despite a law implemented in Florida banning such mandates. The judge granted the petition stating that Florida failed to provide valid evidence and legal predicate for the ban, considering how cruises can be a hotbed for Covid-19 transmission.
Vaccines was also mentioned in a tweet shared by USA TODAY Travel, a news agency, on the Norwegian Gem cruise ship becoming the first fully vaccinated ship to sail from Florida. The ship's voyage marks the first time NCL used its new NCL Terminal located in PortMiami, which can accommodate ships with a capacity of 5,000 passengers. The voyage also follows the restart of Norwegian's operations globally starting with the Norwegian Jade and Norwegian Encore ships.
By emergency powers decree, #Bahamas requires cruisers 12 and older to be vaccinated for ships to call, starting Sept. 3. This applies to any of its destinations, including #cruise line private islands https://t.co/Pss27auT09

— Seatrade Cruise News (@SeatradeInsider) August 20, 2021
4. Cruise booking – 72 mentions
Cruise booking continuing despite the spread of Covid-19 Delta variant, NCL reporting strong future bookings, and summer cruises of Royal Caribbean being fully booked were some of the popular discussions around cruise booking in Q3 2021.
Chris Gray Faust shared an article on the continuation of cruise booking despite the spread of Covid-19 Delta variant in the US. A survey conducted by Cruise Critic revealed that 58% of the respondents have booked a cruise scheduled in the next six months, among who 57% intended to keep their booking. Further, 54% of the respondents indicated they felt confident in booking a cruise right then, while 38% indicated that they plan to monitor how things progressed regarding the Delta variant over the following few weeks. The survey also revealed that 37% of the respondents indicated that they might cancel their booking depending on what happens in the weeks to come.
Another discussion around booking was about an article shared by a cruise news website on NCL reporting strong future booking trends across all its brands. The company reported that the booking trends for 2022 were similar to the record levels registered in 2019. The company's advance ticket sales were $1.4bn as of 30 June. NCL aims to have its full fleet in operation by April 2022 to capitalise on the pent-up demand for cruise travel, the article detailed.
Another discussion on booking was shared by Doug Parker, cruise expert at cruise news blog CruiseRadio, on the summer cruises of the Royal Caribbean being fully booked. Royal Caribbean chose to undertake test voyages and acquire a conditional sailing certificate from the CDC for summer sailings from Florida and Texas, instead of restricting the cruises to only vaccinated guests. The cruise line's voyages, therefore, have emerged popular among passengers with children who are not eligible to receive vaccination and those who have chosen not to get vaccinated. Unvaccinated passengers will be required to undergo Covid-19 testing at their own expense prior to sailing. They will also be required to purchase a travel insurance policy, wear masks and will not have access to restaurants and certain activities.
We surveyed @CruiseCritic readers about the #DeltaVariant, and some interesting findings, in terms of #cruise bookings and cancellations. https://t.co/dLxrIjyKy0 pic.twitter.com/scwIdicADF

— Chris Gray Faust (@ChrisGrayFaust) August 10, 2021
5. Cabin – 53 mentions
Cabins and suites of Atlas Ocean Voyages' new ship, the inaugural cruise of Saga Group's new river cruise ship, and the cruise ships with cabins for solo cruisers were widely discussed topics in the third quarter.
Gene Sloan, senior reporter at travel website The Points Guy, shared an article on the cabins and suites of Atlas Ocean Voyages' new expedition ship World Navigator, which is designed to carry 196 passengers and features 98 cabins. The ship's cabins include design elements from the 1940s including mahogany walls and chrome accents in shades of brown, black and green, apart from marble-lined bathrooms. The cabins are divided into three categories including oceanview, balcony, and suites, with the majority being balcony cabins.
Another discussion that mentioned cabin was shared by a UK-based cruise magazine on the inaugural voyage of Saga Group's Spirit of the Rhine river cruise ship. The ship has a maximum capacity of 190 passengers and is staffed by 40 officers and crew. It has 95 large cabins distributed across four passenger decks. The cabins have an average floor plan of 17m2, making them some of the most spacious cabins on the Rhine. The Main and Upper deck cabins feature French balconies and floor-to-ceiling windows that provide spectacular views of the destinations, the article highlighted.
Cabin was also discussed in an article shared by Cruise Addicts, an online resource for cruise news and reviews, on a list of cruise ships that feature cabins for solo cruisers. Solo rooms are becoming more common on cruise ships to cater to solo sailing, which otherwise is expensive due to the single supplement penalty charged by some cruise lines. Some of the cruise ships with cabins for solo travellers include NCL's Norwegian Epic and Norwegian Bliss, and Royal Caribbean's Ovation of the Seas and Quantum of the Seas.
What are the cabins and suites like on new #luxury #cruise line @atlascruises' just-unveiled first ship? Our guide to all eight categories of rooms on the new #WorldNavigator, live from its first sailing! https://t.co/YhWP1OvhCi via @thepointsguy

— Gene Sloan (@CruiseLog) August 7, 2021