Sika Australia develops elastic adhesives and sealing systems for the marine industry.
The company provides products for levelling, caulking, bedding, bonding and sealing, as well as a range of marine deck covering, vibration-damping, sound-reducing and fire-rated systems.
Sika Australia's noise-reducing, lightweight, thermal insulating systems are suitable for ships, such as skiffs, sailing yachts, power boats, cruise liners, tankers and ferries.
Bonding of plastic and mineral glass windows
Sikaflex-296 is a highly elastic, ultraviolet (UV) resistant adhesive for applications on all types of mineral glass windows.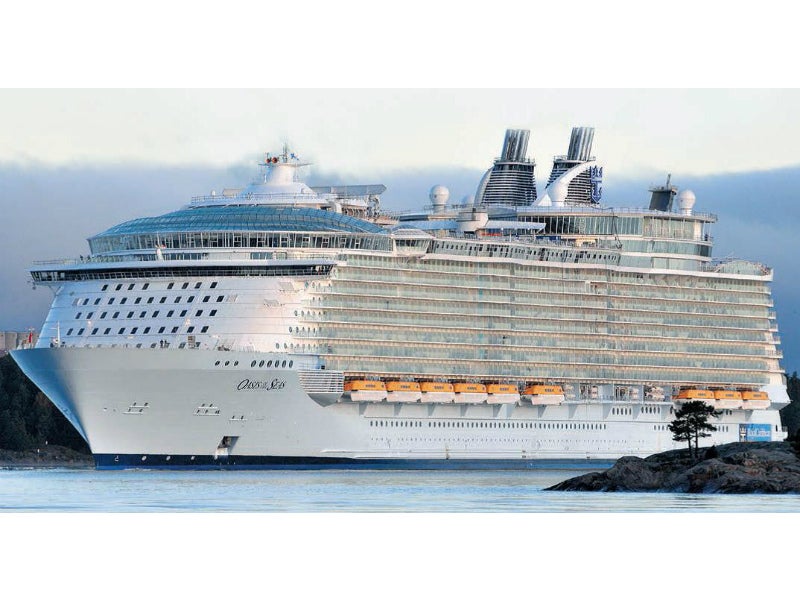 Sika offers sealants and adhesives for bonded windows on cruise vessels.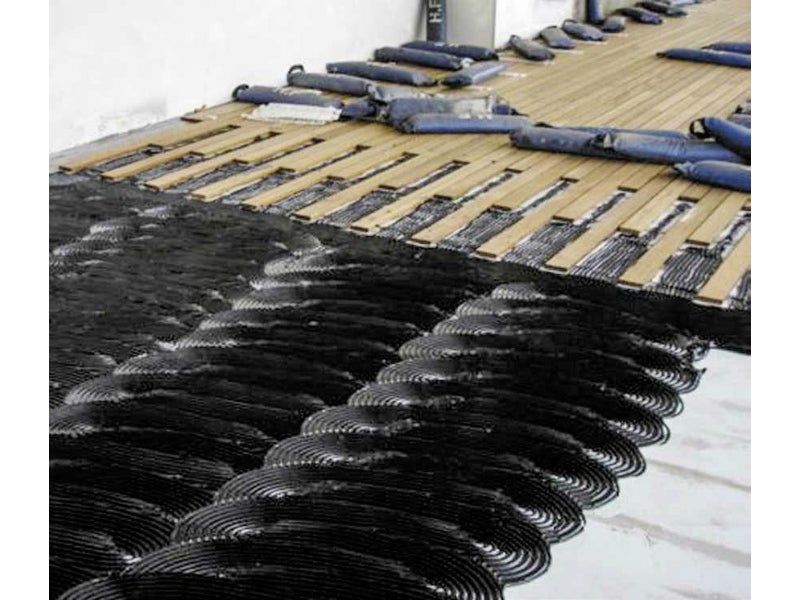 A teak floor being laid showing the bedding compound and the weights to hold it in place.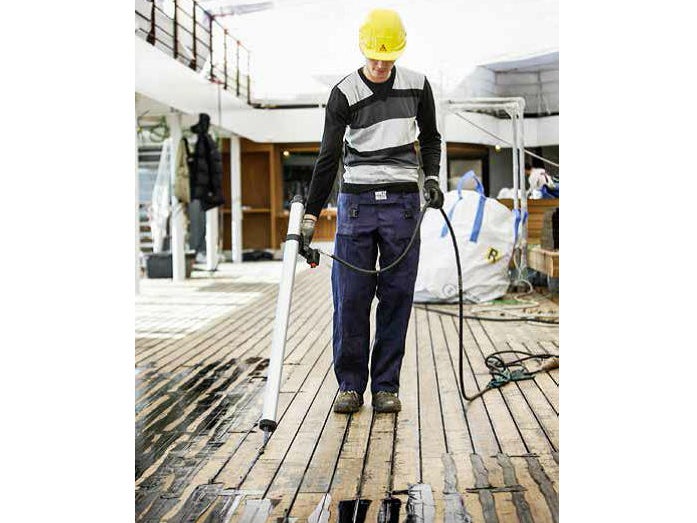 As timber and teak decks need to be watertight and weather-resistant, Sika has developed the complete teak deck solution for manufacturers and boat owners.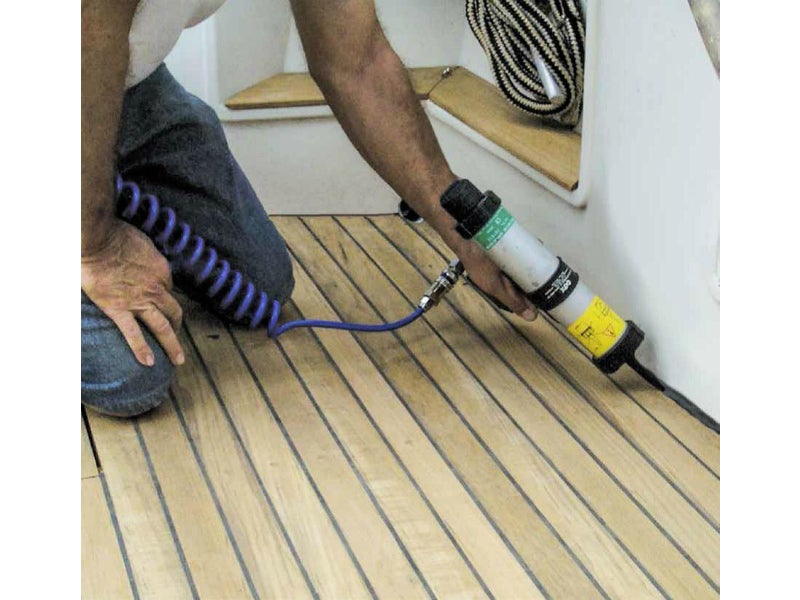 The company provides Sikaflex® for sealing and bonding, and ́Sikafloor® Marine for vibration damping and floor levelling systems.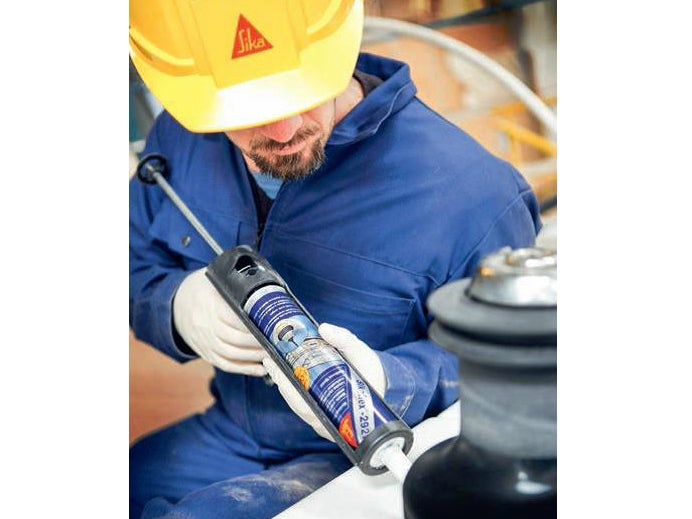 Sikaflex®-292i is a sag-resistant, single-component adhesive for structural bonding applications and dynamically stressed constructions.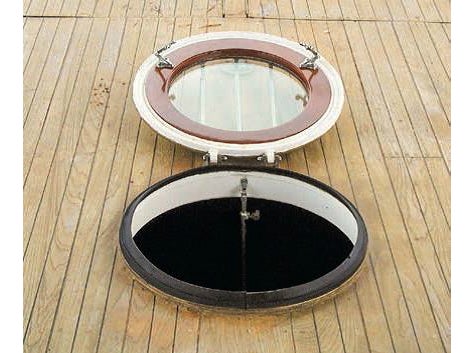 A port-hatch on board a vessel both bonded and sealed using Sikaflex.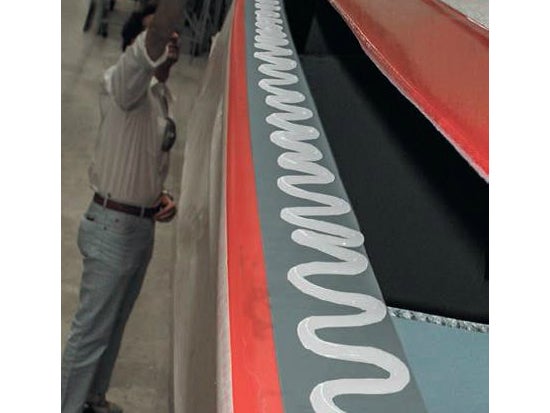 Sika adhesives and sealants can be used to bond the hull and deck together.
Sika offers multipurpose sealants suitable for elastic joints and vibration-resistant seals on interior applications.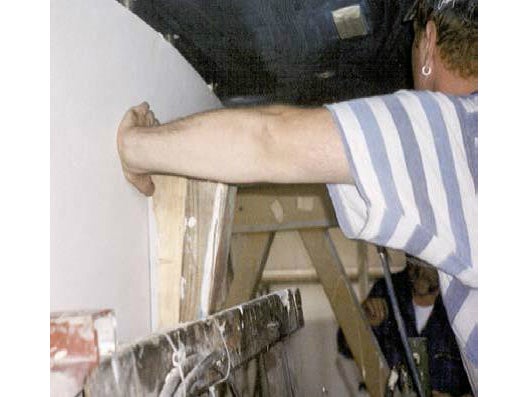 A vessel keel can be slid into position and bonded using Sika adhesive products.
The Sikaflex-296 adhesive is designed to enhance high-modular performance, and its UV-resistance allows it to be used as a simultaneous back-filler.
Sikaflex-295 UV combines consistency with elasticity to maintain the required bond line thickness, ensuring that thermal movements in plastic glazing panels are gradually absorbed, without building up stress.
Bedding and bonding panels and sheet material
Sika Australia supplies specially formulated adhesives for flexible, waterproof bonding of deck planking, plastic deck coverings, timber strip decking and prefabricated timber deck panels.
The company's high-quality, easy-to-use products provide a permanently elastic adhesive layer that absorbs shocks and minimises the transmission of impact sound.
Deck caulking
Sika Australia has developed Sikaflex-290 DC PRO for weather-resistant, watertight teak and timber decks.
Sikaflex-290 DC PRO is an easy-to-use, UV-resistant, single-component polyurethane deck-caulking compound. Once cured, it can be flush-sanded to provide a clean finish for decking.
The company's marine teak deck maintenance system preserves new and weathered teakwood, as well as other kinds of wood applied above the waterline.
Sikaflex-290 DC PRO and Sikaflex-298 are major elements of Sika's Totally Glued teak decking system.
Interior and exterior sealing
Sika Australia provides all-purpose interior and exterior sealing solutions that are resistant to seawater and weathering.
Its flexible marine sealants bond well to standard boat construction materials, and offer high elasticity to ensure a long-lasting, durable seal.
Sealing applications include chain plates, bilges, hardware and deck fittings, ports and hatches.
Exterior and interior bonding for marine applications
Joints that are subjected to extreme dynamic stresses require a long-lasting, high-strength, elastic adhesive with good gap-filling capabilities.
Providing excellent vibration-damping and shock-absorbing properties, Sikaflec292 has been designed to meet these requirements in a punishing marine environment.
Bonding applications include, baulkheads, struts, hatches and panels.
Acoustic flooring for ships
Sika Australia offers a range of products for floor levelling and smoothing applications, as well as noise and vibration reduction, in order to meet requirements for shipowners and regulatory bodies.
Ancillary products
Sika Australia provides surface pre-treatment agents, such as activators and primers, to improve the adhesion of sealants and adhesives onto various substrates.