Chevron Global Marine Lubricants is one of the world's largest suppliers of marine lubricants, advanced cooling water treatments and other specialty marine products and services. Our marine products and services (such as Taro, Veritas, Delo, Havoline, FAST equipment monitoring service and DOT.FAST drip oil monitoring service) help shipping companies reduce operational costs and maximize productivity.
Chevron's blend of industry expertise and leading-edge products and solutions has created a new service and support model focused on what you need most: reliability-based lubrication. All of our marine lubricants are fully approved by, or meet the requirements of, all major original equipment manufacturers (OEMs).
High-performance marine lubricants
Chevron offers the shipping industry a complete range of high-performance marine lubricants. Product development is performed at Chevron laboratories, and all marine engine oils complete exhaustive field trials before introduction. For effective operation of marine vessels, we provide the following types of products in a wide range of viscosity grades and base numbers:
Slow-speed engine cylinder oils (Taro®)
Slow-speed engine system oils (Veritas®)
Medium-speed engine oils (Delo® and Taro)
High-speed diesel engine oils (Ursa® and Delo)
Turbine oils (Regal®)
Hydraulic oils (Rando®)
Gear oils (Meropa® and Pinnacle®)
Air compressor oils (Cetus®)
Refrigerating compressor oils (Capella®)
Gas compressor oils (LPG)
Open gear lubricants, greases and rust preventatives (Multifak®, Molytex®, Texclad® and Ulti-Plex®)
Cooling water treatments (Havoline®)
Marine combustion improvers (MCI)
Marine equipment condition monitoring program
The FAST™ Service is a comprehensive equipment condition monitoring program which reports the condition of oil in service and plots the trends of oil's important properties. FAST enables you to track the performance of equipment that your business depends on to get your cargo to points around the world on time and without incident.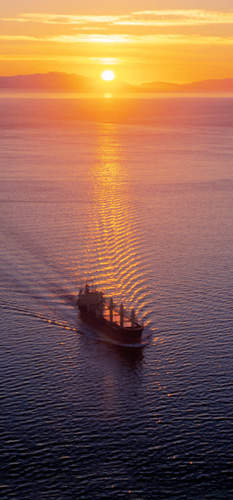 When it's 2,000 miles to the next port, Chevron gives you the reliability you need.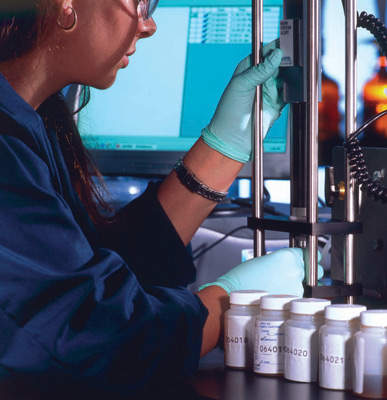 Our Ghent laboratory provides marine fluid analysis, technical support and R&D.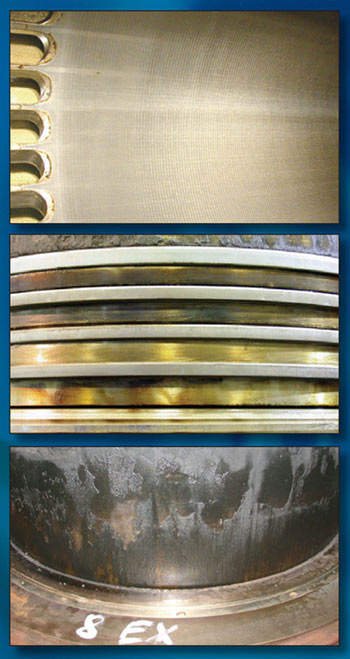 Taro Special HT LS 40 produced superior results after 4,000h of operation in field tests.
The FAST Service comprehensive equipment condition monitoring program reports the condition of oil in service.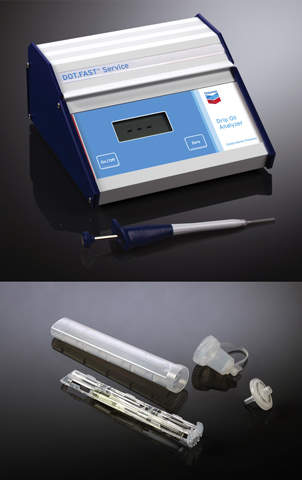 The DOT.FAST Service provides onboard testing of drip oil.
By analysing fluid samples on a regular basis, you can optimise equipment life and oil replacement intervals, identify lubricant-related needs and understand the changing environment within a piece of equipment. This knowledge helps in the precise scheduling of maintenance work that can reduce downtime and minimise the risk of equipment failure.
On-board and onshore analysis of drip oil
The DOT.FAST® Service is a complete program for onboard testing of used cylinder drain oil samples, including regular laboratory analysis with expert advice from experienced engineers. Drip oil analysis is recommended by the major slow-speed engine builders to better understand piston running conditions and to better manage the total cost of operations.
Benefits can include:
Reduced consumption by optimising cylinder oil feed rates
Improved management of fuel with varying quality
Early indication of engine wear
Lower risk of scuffing
A valuable complement to regular engine inspections
Testing of drip oil samples with laboratory accuracy
Monitoring effectiveness of fuel purification
Identifying system oil leakage (e.g., through stuffing box glands)
Consultancy service
Monitoring piston and ring groove wear
Indication of blow-by
Global lubricant availability and online lubricant management system
Chevron marine products are available for supply at more than 700 ports and in more than 100 countries. Our marine lubricants are manufactured to consistently high standards at more than 50 blending plants worldwide. Our online lubricant management system, eWave, enables round-the-clock access to online ordering, real-time order tracking and electronic documentation to improve communication between customer and supplier.
Most importantly, our seasoned marine professionals and technical support staff, including those at our laboratory in Ghent (Belgium), offer you the best service and support available. We intend to earn and retain your business.