EMCS Industries
Anodes, Treatment Tanks, ICCP and Ultrasound for Anti-Fouling and Anti-Corrosion Systems
EMCS Industries supplies the MARELCOâ"¢ system, a suite of anti-fouling and anti-corrosion technology designed for marine vessels.

Address
Unit 2, 2042 Mills Rd W,
Sidney,
BC V8L 5X4,
Canada
Phone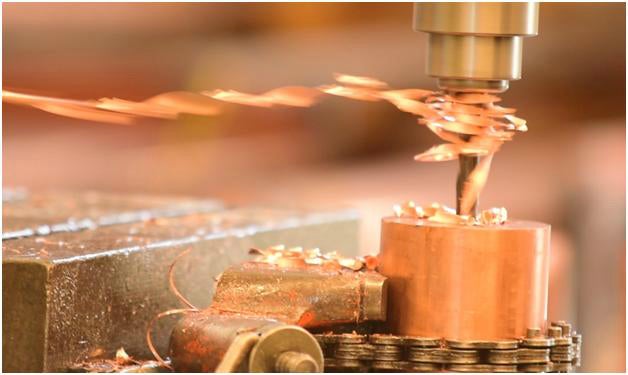 EMCS Industries supplies the MARELCO™ suite of anti-fouling and anti-corrosion technology for marine vessels.
The MARELCO™ systems include electrolytic anodes, treatment tanks, ultrasound, hydrosound and cathodic protection systems.
Marine growth protection system for vessels
Without anti-fouling protection, pipes become blocked with sea life, reducing the efficiency of the seawater cooling system and considerably increasing maintenance costs.
There are three MARELCO™ systems to combat marine and freshwater fouling; the first is the electrolytic anode system invented in 1955 by EMCS. Scientifically known as the Marine Growth Protection System (MGPS), the environmentally friendly MARELCO™ system eliminates blockages without adding chemicals.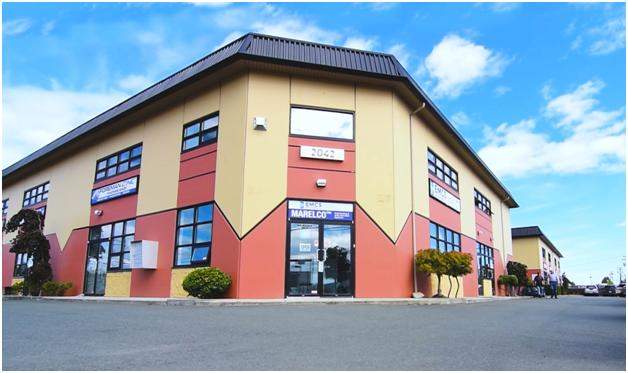 MARELCO anodes are handcrafted at the company's Sydney location.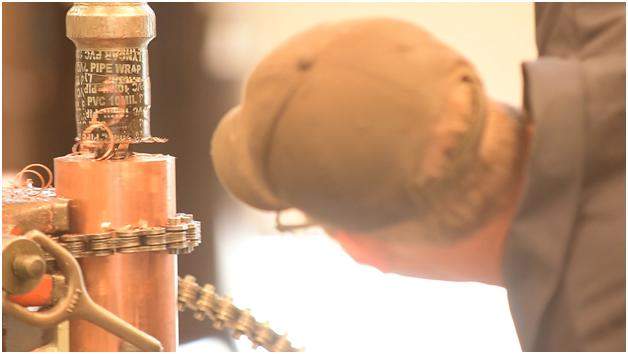 EMCS's MARELCO copper and aluminium anodes produce concentrations of ions, which help prevent fouling in seawater.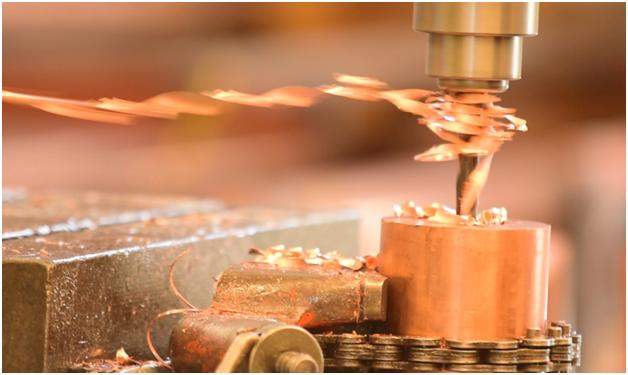 MARELCO anodes being drilled.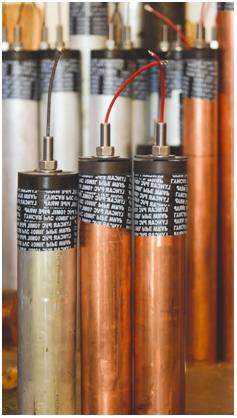 The ions produced by the anodes prevent food sources from building up on internal surfaces, and attracting unwanted sea life.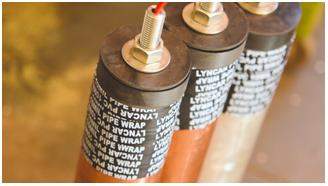 Anodes are used up every few years. They can be replaced during dry docks, or by divers.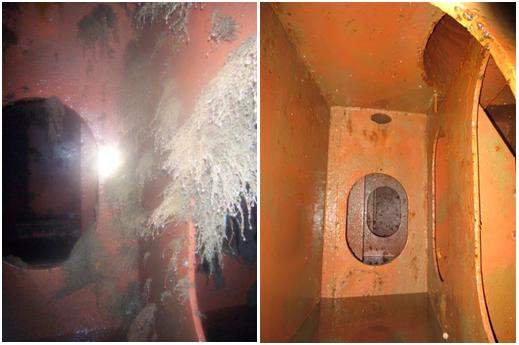 These before and after images of a crossover tank show the benefits of the MARELCO Ultrasound system.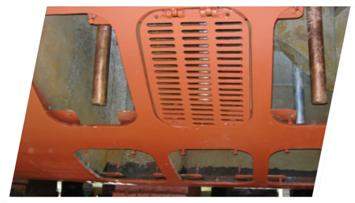 The MARELCO system provides anti-fouling and corrosion protection for sea chests.
Treatment tanks reduce the energy and resources consumed by the protection system.
The MGPS features copper and aluminium anodes, which produce small concentrations of ions that are carried by seawater into the exposed areas of vessels. The ions form a very thin layer on the walls of the internal sea water systems. The ions allow food sources to pass through pipes, instead of building up on surfaces, which will attract barnacles and other crustaceans.
Anti-corrosion protection using aluminium anodes
The aluminium ions prevent corrosion inside sea chests and pipes by creating a film on internal surfaces.
They also release aluminium hydroxide, which acts as a clarifying agent to the discharge released from the copper anodes.
Self-controlled, customisable marine protection system
Depending on the composition of the vessel's piping system, an iron anode is added for enhanced performance.
A largely self-controlled, customised system can be added at any time during a vessel's lifespan.
Every few years, anodes are used up and replaced by divers or more commonly during a scheduled dry dock.
Treatment tanks to boost antifouling treatment and provide efficient anode replacement
Treatment tanks can be implemented by EMCS to reduce emissions, add a boost to the ions required in the sea water systems, or provide an alternative to housing the anodes internally.
The treatment tanks are mounted on deck and the sea water is pumped through the tank to pick up the ions and then distributed back into the sea water system. Since the tanks are easily accessible, the anodes can be changed without divers or expensive dry docking.
It is also used as a scrubber system that treats seawater used to remove soot from the exhaust in the stack.
Ultrasound and hydrosound systems for marine fouling prevention
The MARELCO™ Ultrasound and alternative hydrosound systems combat fresh and saltwater marine fouling in sea chests, crossover tanks, box coolers and sea suctions, as well as internal piping in cruise ships, luxury yachts, and commercial shipping vessels, and even recreational vessels.
The systems can also be added to the potable water storage on vessels, keeping water free from bacteria such as E.coli, and prolonging its storage life.
Anode cage protection system for offshore platforms
The MARELCO™ anode cage system also prevents fouling on offshore platforms and oil rigs.
The anode cages are added to the intake pipes used to pump sea water into the cooling systems for drilling equipment. The cages prevent potential marine life blockages, which bring production to a halt and add significant maintenance costs for cleaning the pipes and pumps.
Cathodic protection system
The MARELCO™ cathodic protection (ICCP) system prevents hull corrosion on ships manufactured from steel.
This protection is critical for crew safety and the long life of a vessel exposed to a highly corrosive environment on a daily basis. The system was introduced to expand the company's anti-corrosion product range.
Monitoring and data storage system
To be introduced in 2016, the MARELCO™ SmartPanel™ system automatically manages electrolytic anode, hydrosound and ultrasound systems.
It automatically monitors and stores readings for each anode and transducer, as well as records them on an on-board PC. The data is easily accessible via email in an encrypted text string.
The energy-efficient SmartPanel automatically manages amp and volt levels to maximise the anodes' lifespan, and controls each ultrasound/hydrosound transducer independently according to current conditions, including diagnostics.
EMCS's new software interface allows remote monitoring of the SmartPanel from a PC, touchscreen, tablet or smartphone via a web-based portal.
About EMCS
EMCS Industries was established in 1955 in Victoria, BC, Canada. The company was originally named Electrolytic Marine Corrosion Services, and was formed by Frank Chappel and Lauder Ramsay, who invented the revolutionary seawater electrolytic protection technology.
In 1983, the company name was changed to EMCS Industries Ltd, and the patented product brand name was changed to MARELCO™ .
For 60 years, EMCS Industries has introduced key innovations to eliminate major biofouling and corrosion problems in the marine industry.
EMCS supplies the MARELCO™ worldwide to some of the largest ship owners and boat builders in the industry.
The MARELCO™ system is approved by Lloyds Register, ABS, the Canadian Coast Guard, Transport Canada and the US Coast Guard. All electrical components are CSA and UL approved.
EMCS owns the MARELCO™ trademark worldwide, and owned the Cathelco™ trademark for North America until September 2015.
EMCS Industries
Unit 2, 2042 Mills Rd W
Sidney
BC V8L 5X4
Canada



Telephone Number




Fax Number




Email Address
Administration and Accounting
PO Box 91533 Roseland Plaza
Burlington, ON
L7R 4L6
Canada