The reclaiming of bulk products from ship holds of bulk carriers is made very easy by VIBRAFLOOR, the automatic reclaimer proposed by Silexport International.
This proven technology is ideally suited for either new-build or retrofit self-unloading bulk carriers.
Recovery and clean-up of residual piles
VIBRAFLOOR performs the recovery and the clean-up of residual piles on slightly inclined floor decks. Most commodities can be handled, such as cereals, meals, sugar, flour, fish feed, fly ash, cement, sulphur, wood chips, wood pellets, ores and aggregates.
Modular automatic reclaimer
VIBRAFLOOR is made of independent vibrating modules designed to suit the shape and dimensions of the holds. Modules are laid side-by-side and end-to-end to cover the deck area.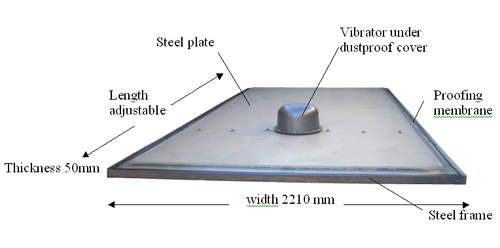 Typical vibrating module, plant assembled, which can be quickly installed in ship holds.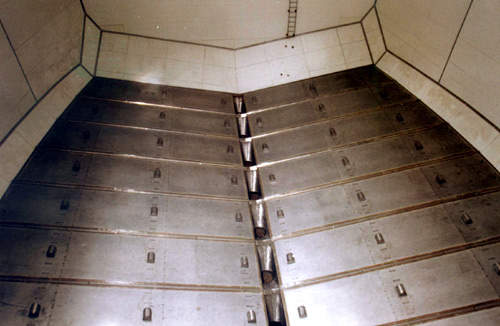 Bow hold of the 20,000t bulk sugar vessel MRS Pioneer, put into service in 1996; a 500t/h reclaim rate on crystal sugar is achieved by a VIBRAFLOOR composed of 232 food grade modules.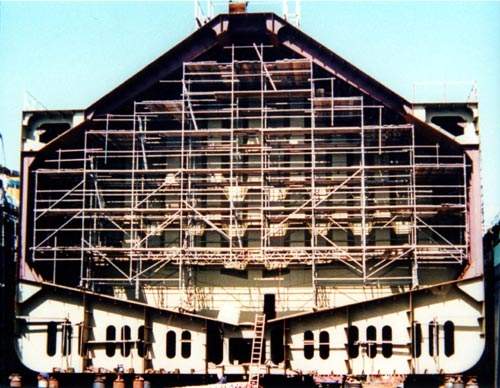 Cross-section of the vessel MRS Pioneer, showing top decks sloped at 12°; hold volume is maximized, with not even 1m³ of hold volume wasted.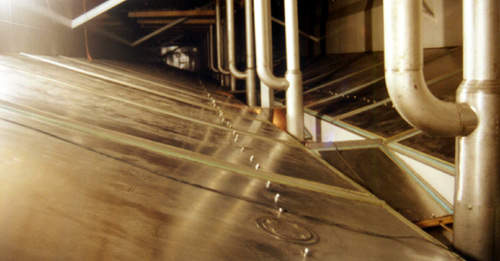 View inside the Mercurial Latistar, a 1.400t bulk flour carrier; the reclaiming capacity of its 66 modules is 2,000m³/h.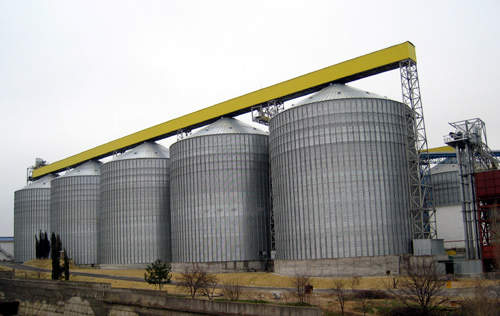 800t/h ship loading of wheat out of 28m-diameter grain silos in the harbour of Sebastopol.
Modules are typically 2.2m wide, 3m to 4m long and 50mm thick. Each module is powered by a three-phase electric vibrator of 700W unit power.
Ship-hold clean-up system
Lower modules are triggered first, to destabilize and carry residual piles into a central conveying system. Then upward rows of modules are triggered successively from bottom to top, until complete clean-up of the holds is completed.
Major advantages for bulk carrier operators include:
Extremely simple, no heavy machinery
Extensive use of hold volumes on account of small deck slope angles (typically 10°-12°)
100% clean-up
No personnel required in the holds
No maintenance
Very small power intake
No dust generated by the reclaiming process
Completely automated
Totally safe for the ship, the cargo and the crew
Negligible operating cost, unbeatable investment cost
Self-cleaning harbour silos
High-rate ship-loading system
VIBRAFLOOR is also widely used in harbour silos for high-rate loading of ships.
Turnkey ship-hold bulk-reclaiming service
Silexport International will mastermind the bulk-reclaiming process of your ship holds from beginning to end. From the design office, plant manufacturing, site installation and commissioning, our engineers and technicians will provide you with their unique expertise, within schedule and budget.
Bulk self-unloaders made simple with VIBRAFLOOR
The ship's holds, with tank top sloped as low as 12°, are entirely self cleaning with 100% recovery of product. Recovery rate is easily controllable.
By careful design the hold capacity can be optimised to avoid any ullage (wasted) space giving increased cargo volume for a given vessel size.
The system is extremely simple, very reliable, fully automated, and maintenance free with very low power requirements. It can be customised to any configuration and is efficient on a wide range of products (Grains, Wood Chips, Cement, Minerals etc.).
VIBRAFLOOR is the ideal reclaimer for bulk self-unloaders.