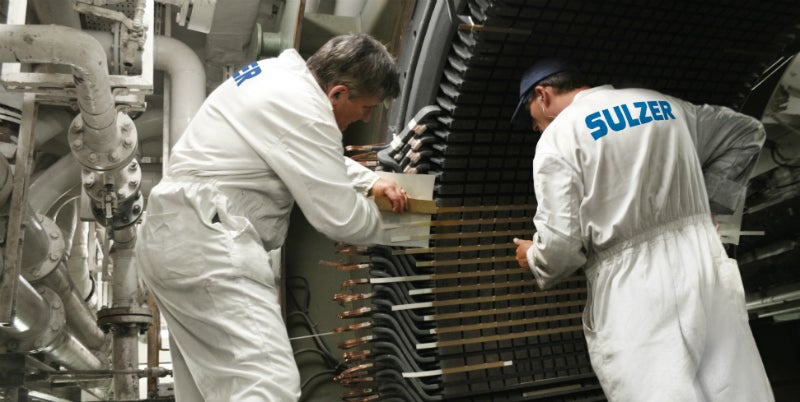 Sulzer is the leading independent service provider for rotating equipment, and offers repair services for vessels such as cruise liners, naval and passenger ships, tankers, offshore production and support vessels, and dredgers. We are dedicated to minimising downtime and maximising your profitability. Ship operators, ship owners and shipping agents turn to us for reliable support, including emergency call-out, site inspection, repair of all types of mechanical and electrical equipment, and in-situ repair and testing.
You benefit from:
Maximum sea time for vessels
Lifetime extension of rotating equipment
Improved efficiency and reliability
Minimised disruption for crew and owners
Fast assessment of damage and rapid repair
Best solutions at cost-effective rates
Reduced dry dock time
Shortest disruptions at ports
Vessel repairs and support at sea
Normally, large electrical rotating machines are removed from a ship in berth or dry dock. This often requires dismantling surrounding equipment or main support structures and cutting a hole in the ship's side. Sulzer has the expertise to repair most rotating machines in-situ. Whenever you call us, our experienced and highly skilled engineers fly to meet the ship wherever it is, and provide the service that helps you minimise cost and downtime.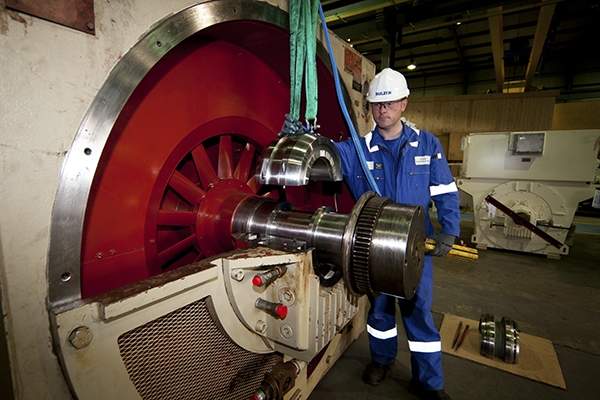 With many possible service solutions, we can help our customers in a unique way.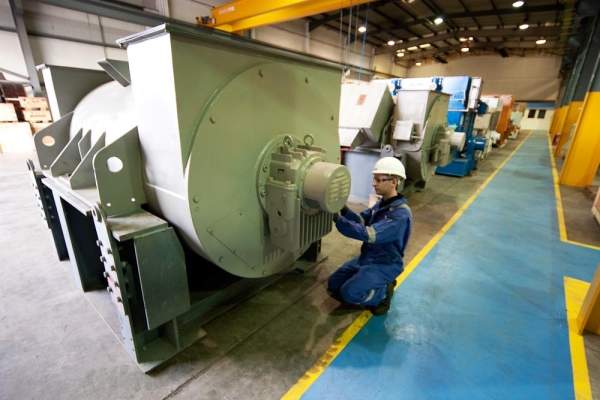 Dedicated to thinking long term, our experts focus on maximising equipment life.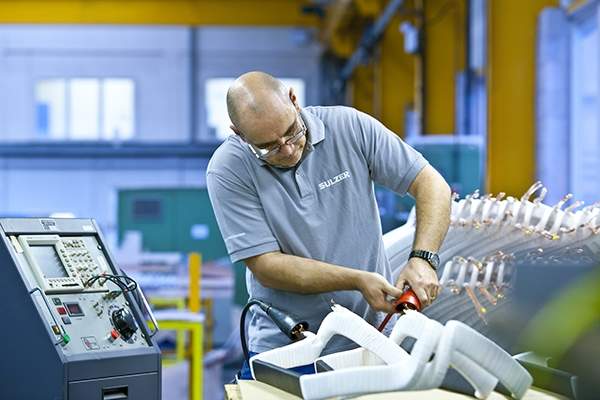 In our dedicated test facility, all coils undergo stringent tan-delta and impulse tests, to ensure that all relevant electrical specifications are met.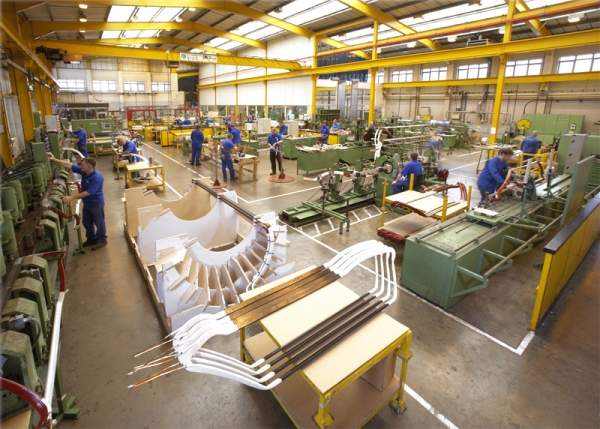 A view of the coil shop incorporating a wide selection of diamond coils and generator bars.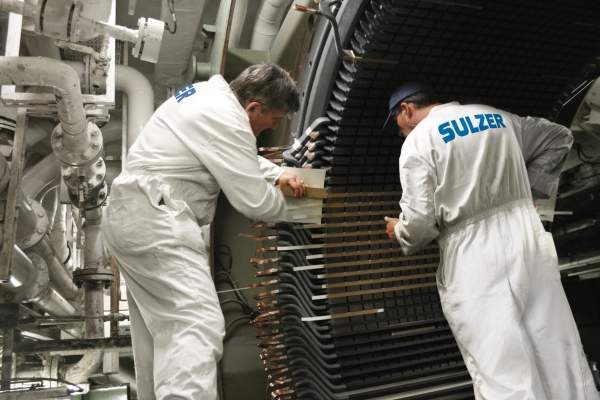 Sulzer engineers onboard a vessel for a generator repair.
Services include:
Rapid call-out, assessment and repair
Uninterrupted operations
Worldwide, fast support
Re-engineering
Repair of any make or type of rotating machine
Supporting infrastructure from our global network of facilities
Service support for:
Main propulsion drive units
Drive and standby alternators
Bow and side thrusters
Ancillary drive systems
Product handling equipment and drives
Main drive shafts and bearings
Land-based service for the maritime sector
While our engineers are onboard dismantling the equipment, we are manufacturing new coils at one of our special facilities around the globe. Once completed and tested, the coils are dispatched to the vessel in time for Sulzer's engineers to seamlessly carry on with the repair.
Our coil workshops are among the best-equipped coil manufacturing facilities in the world, capable of producing all types and sizes of AC coils and bars, DC coils and Rogowski coils.
An in-house, highly sophisticated copper rolling mill has both inline and pot annealing facilities, enabling us to offer a round-the-clock coil manufacturing capability, with an incredibly short lead time on copper strip. Extensive stocks of continuously cast soft copper rod guarantee the ability to meet your demands immediately.
Formed coils are produced on automatic shaping machines, which give consistent geometry and coil fit. Computer-controlled taping machines provide perfect lapping and consistent tension, giving built-in security of coil insulation.
A range of electrically heated hydraulic presses up to 24ft (7m) guarantees highly accurate size and consistent control of pressed coil sides, ensuring a perfect slot fit. All packing and transportation of our products have to pass stringent quality controls so that the care taken in manufacture is in no way compromised en route to the customer.
Sustainability in the ship service industry
Sulzer's commitment to quality is matched by our dedication to sustainability at all levels of our business. We work every day to ensure the health and safety of our employees, and the safety and integrity of the services and products we provide. At all our locations worldwide, we implement certified management systems according to ISO 9001, ISO 14001 and OHSAS 18001 as an effective way to sustain the continuous improvement of our processes and products.