Dassault Systèmes, the 3DEXPERIENCE® company, provides businesses and people with virtual universes to imagine sustainable innovations. Its world-leading solutions transform the way products are designed, produced and supported. Dassault Systèmes' collaborative solutions foster social innovation, expanding possibilities for the virtual world to improve the real world. The group brings value to over 170,000 customers of all sizes, in all industries, in more than 140 countries.
The 3DEXPERIENCE platform for the marine and offshore industry
In the highly dispersed and interconnected marine and offshore landscape, the struggle to stay competitive is intense. Innovative and sustainable concepts, on-time and on-budget delivery, compliance with stringent safety and environmental regulations, and greater design, manufacturing and operational efficiencies are many challenges for organisations to overcome if they want to remain relevant.
The challenges are many, but so are the opportunities. Safer, cleaner, greener vessels and offshore structures, as well as new sources of energy, require a whole new way of thinking. The possibilities are as boundless as the oceans themselves. Leveraging over 30 years of expertise across 12 industries, Dassault Systèmes helps progressive naval architects, designers, shipyards and suppliers successfully transform their practices to create unique value for their customers.
Dassault Systèmes introduced the 3DEXPERIENCE platform, the only business platform that connects people, ideas and knowledge in real time. Dassault Systèmes delivers industry solution experiences based on the 3DEXPERIENCE platform to help marine and offshore industry actors address their challenges, drive sustainable innovations, build the right business value and offer compelling consumer experiences.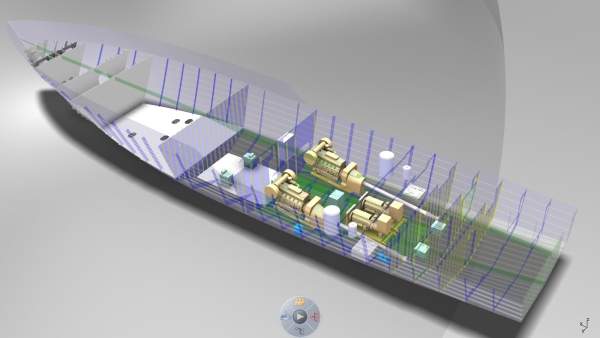 3D simulation of engine room arrangement.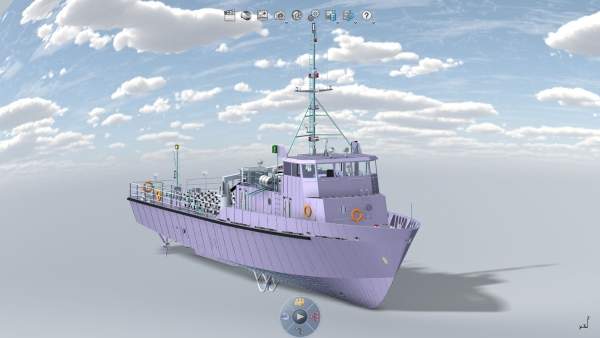 3D simulation of ship exterior.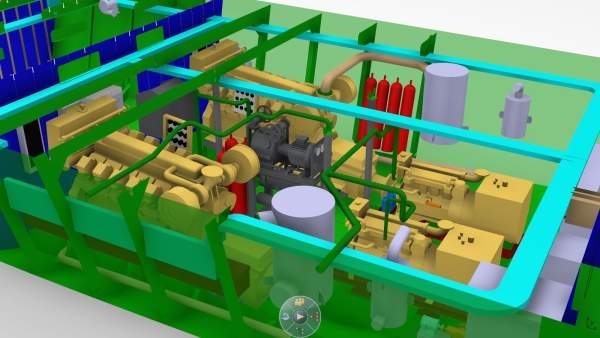 3D simulation of piping and electrical arrangement.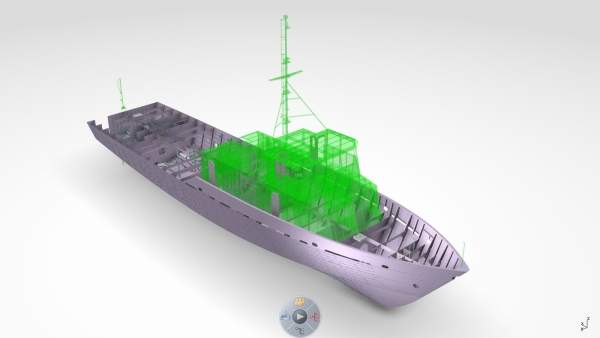 3D simulation of ship structure.
The 3DEXPERIENCE platform powers Dassault Systèmes brand applications (3DSWYM, ENOVIA, CATIA, SOLIDWORKS, GEOVIA, SIMULIA, DELMIA, 3DVIA, EXALEAD and NETVIBES) to deliver a full range of social, collaborative 3D modelling content and simulation, as well as information intelligence capabilities.
Design, optimise, validate and certify
A key challenge for marine and offshore companies is to deliver a high-quality early design that meets all customer specifications, while efficiently complying with regulations and classification rules. It requires design integrity across multiple disciplines, as well as efficient coordination in a multi-site, global ecosystem to alleviate conflicts and avoid costly rework and downstream delays.
Powered by the 3DEXPERIENCE platform, Dassault Systèmes' marine and offshore industry solution experiences enable naval architects, marine engineers, designers, shipyards and their suppliers to create, test and validate 'what if' design alternatives using advanced, real-time 3D analysis and simulation.
The industry solution experiences connect the dots between the requirements, regulations, engineering disciplines, partners and suppliers throughout the design process with full traceability. They increase design quality and guarantee compliance with customer requirements and regulations, while enabling marine and offshore companies to achieve significant productivity gains and cost savings.
Plan, manage, track and connect at any time, from anywhere
From shipyards and suppliers to ship owners and ship operators, the marine industry involves a multitude of stakeholders all working towards a common goal: the successful completion and launch of some of the world's most complex machines. Project management, information sharing and efficient collaboration are essential to fulfilling this goal. Technology is a critical asset in a climate of economic uncertainty where investments are continually scrutinised and control of projects and costs are key to remaining competitive. Streamlining the flow of information for efficient project management meets marine and offshore companies' number one priority: the ability to deliver on-time and on-budget.
With Dassault Systèmes' industry solution experiences for marine and offshore, companies can engage in collaborative planning, monitor project status and performance, and ensure traceability in a secure environment. Stakeholders benefit from dedicated marine and offshore-centric solutions to socially innovate, reduce costs, preserve intellectual property and deliver a ship or offshore platform that adheres to specifications.
CATIA, SOLIDWORKS, SIMULIA, DELMIA, ENOVIA, GEOVIA, EXALEAD, NETVIBES, 3DSWYM and 3D VIA are registered trademarks of Dassault Systèmes or its subsidiaries in the US and/or other countries.