Heatmaster is a leading supplier of heating systems on-board ships, used to heat cargo and HFO380 fuel for main engines.
Heatmaster can also assist with the design, calculation and engineering of heating systems due to their experience and specialised knowledge with the most optimal heating solutions using thermal fluid, hot water or steam.
The company takes care of clients' heating systems, with dedicated engineers continuously improving installations and designs to achieve successful performances. Heatmaster's staff have immense experience of heating systems in offshore, marine and industrial environments.
Boiler systems for ships
Because of Heatmaster's desire to face new challenges and stay at the industry forefront, a dedicated reference list has been put together, showcasing more than 500 heating systems in various types of installation. Some owners have more than 40 ships sailing with Heatmaster heating systems.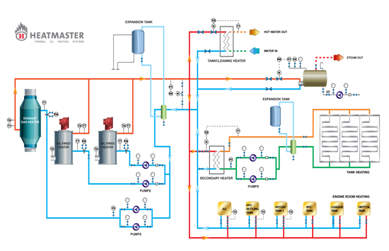 An example of a maritime PID drawing, just one of the environments that makes use of Heatmaster products.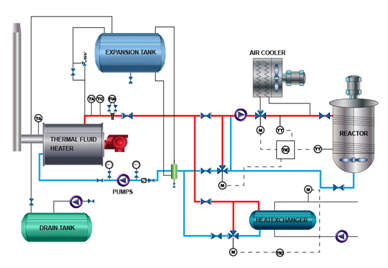 Heatmaster thermal fluid heaters are used in a variety of industrial applications.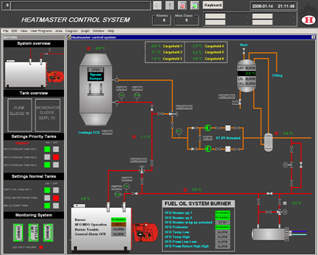 The sophisticated HCS system of Heatmaster BV reduces fuel costs through automatic monitoring and control of heat-consumers.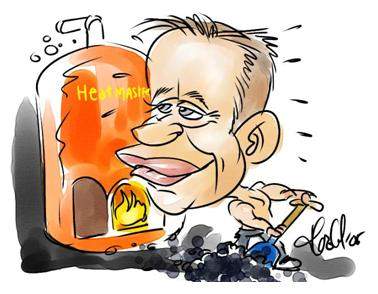 Heatmaster was founded in 2002, and provides a comprehensive range of ship heating solutions.
A branch office was set up in Shanghai in 2006, and an ISO 9001 quality certificate was obtained in 2007. Heatmaster boilers are constructed in the famous German Wiesloch boiler factory. These large and strong boilers are renowned in the market for their long life and low fuel consumption.
Touchscreen-controlled heating and exhaust gas systems
Delivered systems can include the latest generation of PLC control, through the use of a touchscreen. Programmes comprise all necessary parts of the heating system such as:
Heaters / boilers / exhaust gas systems
Pumps
Valves
Tanks
Heat exchangers
Spare parts
Efficient and economical heating for tankers and dry cargo
Depending on the nature of the cargo and the type of carrier, Heatmaster has designed a tailor-made heating system for tankers, which is efficient, simple and an economical investment. Through this method, calculations can be made for heat loss and heating coil capacity. Secondary systems, deck heaters, steam-generating units, prefabricated heating coils, and tank temperature control systems are all supplied.
Entire systems for dry cargo or container ships can also be designed, including heat balance and estimations of boiler capacities.
Fluid heaters for use in a variety of industrial processes
Heatmaster thermal fluid heaters are used in the textile and plastics industry, bitumen and asphalt plants, as well as various other industrial applications.
The company's design, with a large dimensioned combustion chamber, guarantees complete fuel efficiency, ensuring low transfer rates throughout the heating surface and low film temperatures. Together with heavy-duty construction of the heaters, this leads to an extended life for the thermal fluid.
Special heat-recovery designs have been used for co-generation plants, in combination with diesel engines. This can be done with a steam, hot water or thermal fluid. Hot water installations (maximum temperature 180°C) are also produced, deployable as a heating medium in various processes.
Advanced fuel-reducing monitoring systems
The HCS (Heatmaster Control System) is a PLC-based system that can be easily operated via touchscreen. The sophisticated product reduces fuel costs through automatic monitoring, and by controlling the temperature of heaters, bunker tanks and other heat-consumers.
The modules used for the system, such as the central processor unit, communication module, input and output modules (analogue and digital) are type-approved by all classification societies. Two different operating modes are used to control the heat-consumers during sea-mode and harbour-mode, in order to reduce oil fired heater fuel costs when the ship is in harbour.
Each heat-consumer has its own 3three-point controller, so separate and independent settings can be used to control fuel temperature. The software, which is the basis of the HCS system, has been used for more than 25 years in the offshore and shipping industries.