Lightning Naval Architecture (LNA) designs modernisations for existing vessels to extend their service-life and capacities.
We design complex conversions to re-purpose vessels and supervise the modifications, performing structural calculations and stability modelling to ensure your vessel complies with domestic or international rules and regulations.
We specify compliant materials for construction, and design ship-to-shore interfaces for loading and unloading of trains, trucks, and cars. In addition, we provide supervision and inspection services for ship-owners. We also design new vessels that are energy efficient.
Our services range from initial feasibility studies, transport analysis, budget estimates and concept designs to detail design, tendering and supervision both for new-buildings and for conversions and modifications. Our experienced naval architects and marine engineers employ an adaptive and methodical design process.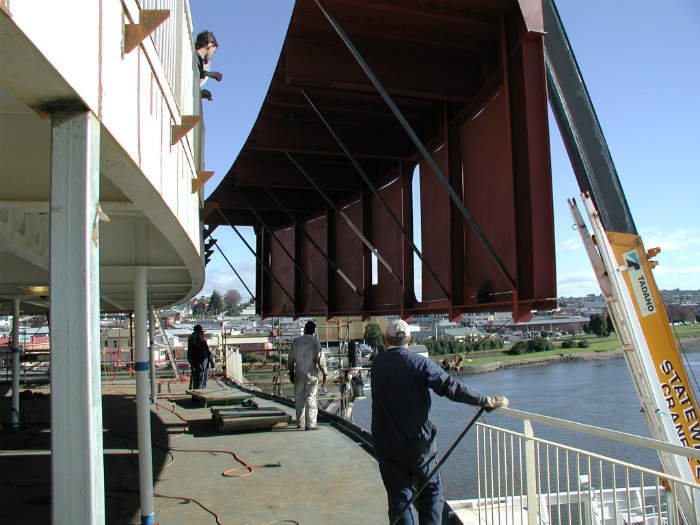 Spirit of Tasmania I & Spirit of Tasmania II: LNA designed and supervised construction of a new business class recliner lounge enclosing the aft open deck.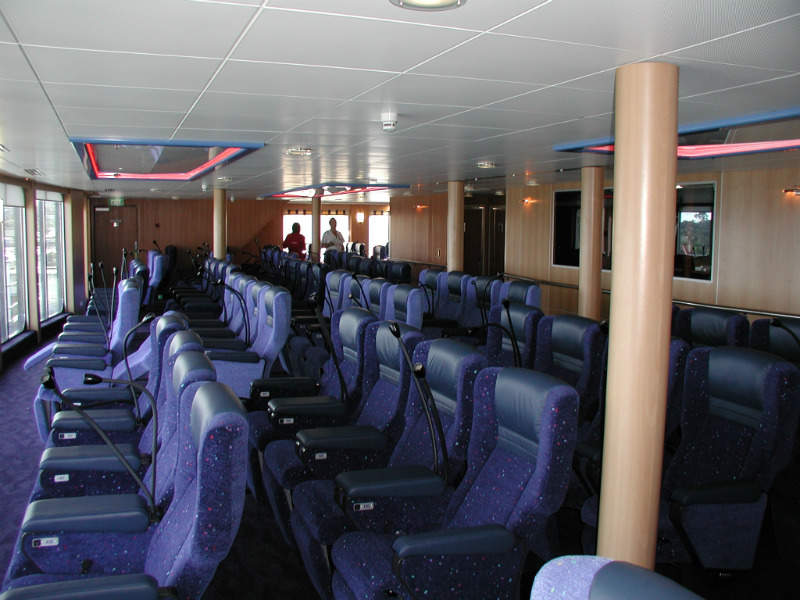 Spirit of Tasmania I & Spirit of Tasmania II: LNA-designed new business class recliner lounge completed and ready for passengers.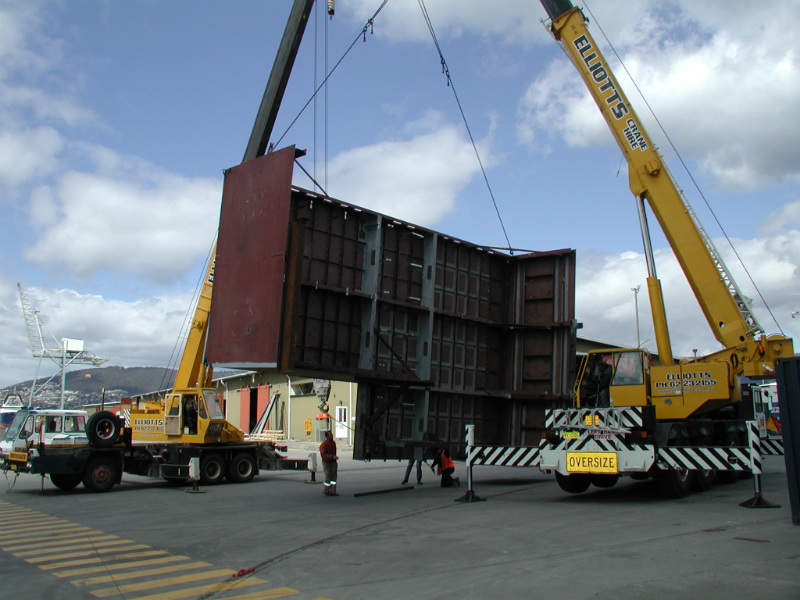 Spirit of Tasmania III: section of new superstructure designed by LNA being manoeuvred in Hobart construction yard prior to outfitting. Sections were outfitted prior to lifting on-board.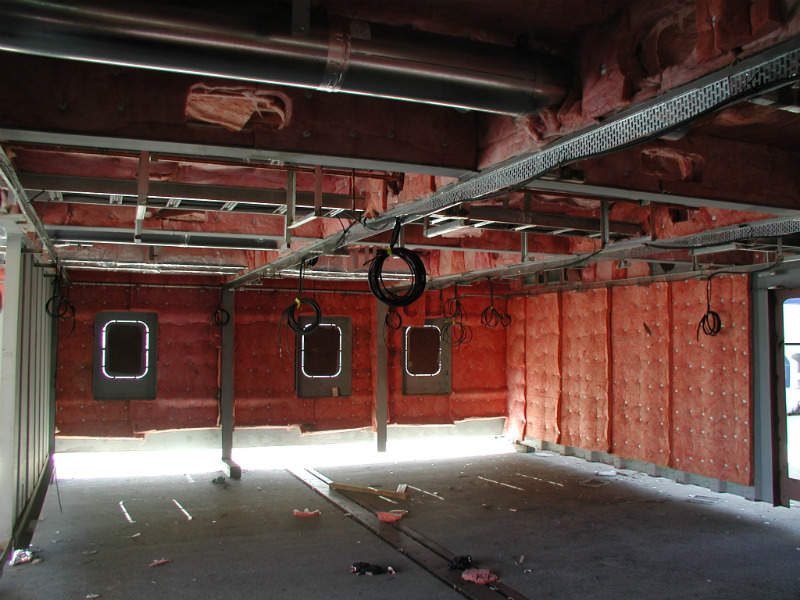 Spirit of Tasmania III: Pre-outfitted section of LNA-designed new upper accommodation deck with cabins and gymnasium being lifted onto vessel in Hobart; LNA supervised construction.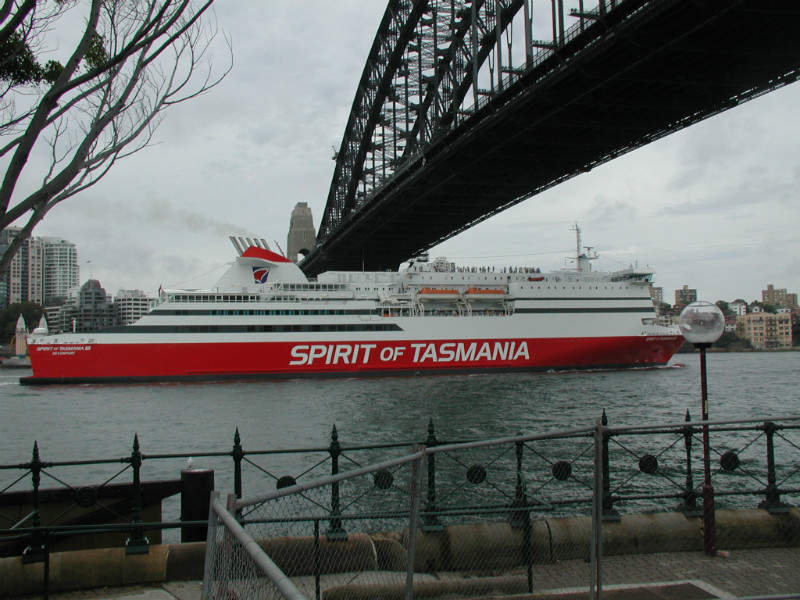 Spirit of Tasmania III: Pre-outfitted section of LNA-designed new upper accommodation deck with cabins and gymnasium being lifted onto vessel in Hobart; LNA supervised construction.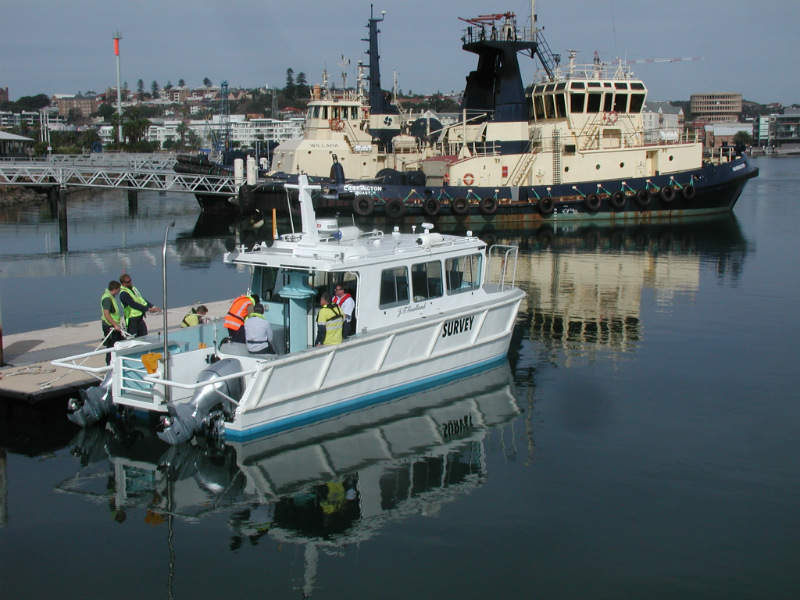 LNA designed the Newcastle Ports coastal survey vessel 'JT Gowlland' including the multi-beam echo sounder deployment system; here LNA conducts inclining experiment prior to the vessel entering NSCV 2C operations.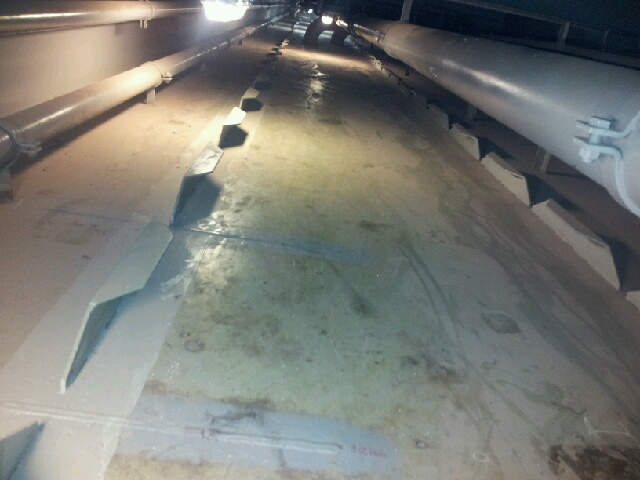 Structural solutions: LNA analysis reveals pipe-duct cracking in this RoRo passenger ship is caused by buckling stress in the tank-top plate. LNA's less intrusive repair strategy is accepted by Class.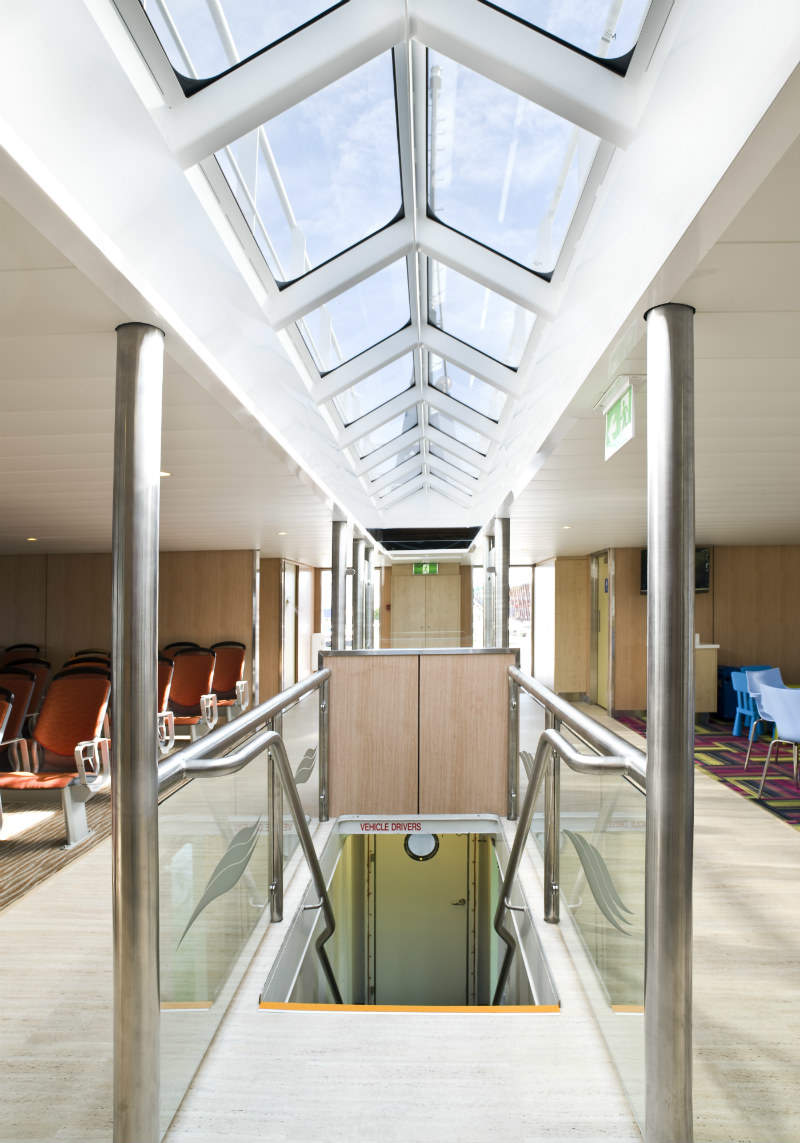 MV Queenscliff modernisation: LNA design transformed this car-ferry by opening up the interior, adding this skylight and new large windows. Passengers now delight in viewing opportunities on Port Phillip Bay.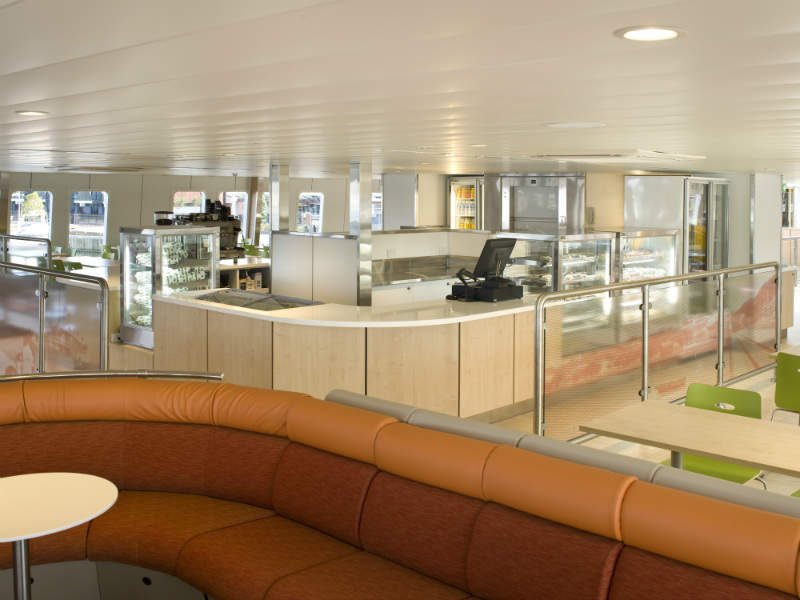 LNA designed a modern interior with inviting seating and a new café on-board. Passengers now enjoy the food and beverage offerings rather than sitting out the journey in their vehicles.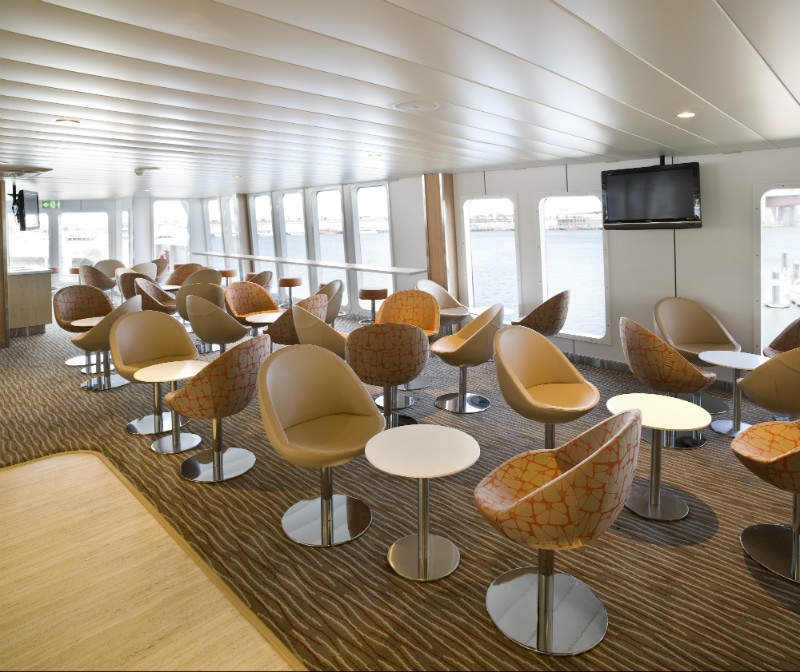 As part of an LNA designed modernisation of this Australian Ro-Ro passenger ferry, this design collaboration between LNA and Cubus Concepts delivered bespoke easy chairs for modern short-passage seating.
Ship design for transport, travel, freight haulage, and construction
LNA provides ship design and naval architecture services for Ro-Ro and rail passenger ferries, which transport freight and passengers by vehicles and rail. Applications include expedition cruise ships that journey to far-flung corners of the world, cargo vessels carrying containerised and bulk cargos and live animals, as well as infrastructure construction vessels used to building bridges, jetties, and ports.
A feasibility study and route analysis may be the first step if considering a new service. For modernisation of an existing vessel, often the first steps are a concept design and project cost estimates. This can be followed by preliminary design, budget preparation and materials specification through to design-for-construction plans and calculations and building supervision.
Full technical analysis can investigate hull form efficiency, propulsion effectiveness, and manoeuvring capability.
Ship structure designed for ease of building, structural repairs and rules compliance
LNA delivers efficient structural design outcomes to make the work of the shipyard or construction contractor straight-forward. We establish strong relationships with yards and related suppliers to enable your project to progress without unnecessary delay, also communicating throughout with classification societies and other accredited surveyors to progress the approval process smoothly.
We provide drawings and strength calculations for obtaining necessary approvals in preparation for structural repairs and for information to the shipyard doing the repair work.
Where appropriate, we analyse the cause of structural failures and investigate the most cost-effective repair options. Whether for new structures or repairs to existing you can rely on LNA to deliver a practical solution.
Ship modelling and analysis, stability for intact and damaged ships
LNA creates 3D computer models of large passenger vessels, special purpose and dry cargo ships to analyse their behaviour at-sea. Analyses regularly cover the areas of intact and damage stability, including optimisation of watertight sub-division.
We have considerable experience in carrying out probabilistic damage stability calculations to SOLAS 2009 and Special Purpose Ships (SPS) Code 2008 for Flag State approval.
Speed and power performance prediction, including propeller optimisation, are other tasks undertaken, as well as manoeuvring calculations and sea trials and sea-keeping analyses.
We have delivered specialised ship modelling and analysis on a variety of naval vessels in particular for the Royal New Zealand Navy. We use the world's best commercial naval architecture software package, NAPA, for hull design, analysing intact and damage stability, speed and power, and manoeuvring.
LNA creates calculation models for stability analyses of the large barge and heavy machinery assemblages used in the construction of maritime infrastructure such as bridges, wharves, and ports. These analyses cover load-out and on-board operations of the heavy machinery, including crawler cranes, mobile drill rigs or tracked excavators, as well as delivery of load charts specific to maritime operations.
LNA can provide installation of and ongoing support for on-board stability software for intact and damage stability and longitudinal strength monitoring to client requirements and training of ships' crew in-use of software and interpretation of outcomes.
On-board stability testing
LNA has extensive experience in carrying out SOLAS lightweight surveys and inclining experiments on large IMO-regulated Ro-Ro and special purpose ships, including in situations where there have been extensive modifications to the subject vessels. We have similar experience with NSCV-regulated commercial vessels, including both passenger and non-passenger vessels.
Compliance with International and domestic maritime regulations
SOLAS, Classification Society Rules, Australia's National Standard for Commercial Vessels (NSCV): whatever the jurisdiction your vessel operates under, LNA can provide compliant solutions. We are also accredited by Australian Maritime Safety Authority for NSCV plan approval, stability approval and load-line assignment.
Seeking an experienced naval architect? Contact LNA
Lightning Naval Architecture was established in 1998 as an independent consultancy covering all aspects of naval architecture for ship owners, operators, and shipyards. Our company has completed more than 400 projects for the maritime industry and built up a solid international and domestic reputation with a loyal client list.
Our aim is to add maximum value to our client's projects through the provision of professional design and engineering services. Call us or use the form below to discover what solutions we can provide for you.